Civitanova Marche (Macerata), 21 January 2023
SuperLega, Trento conquers Civitanova and comes up besides Modena in 2nd place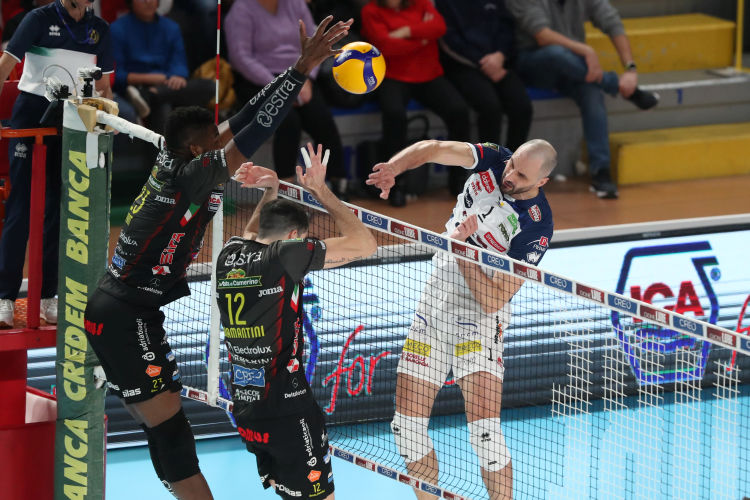 Personality and determination. With these weapons Itas Trentino collected tonight, in the Marche region, the first victory in SuperLega Credem Banca championship for the year 2023, also regaining identity and playing right at the climax of its entire regular season. The 3-1 win achieved today at the Eurosuole Forum in Civitanova Marche, in the early 16th round against the reigning Italian champions Cucine Lube, in fact allows the yellow-blue team to pull ahead precisely the hosts (now three points behind), temporarily coming up besides Modena in second place, significantly boosting their quotations in the rankings. In a historically antagonistic facility (two victories in twenty previous games), Lorenzetti's team returned tonight to express an impressive volley, which soon came up against the hosts, surprised every time at the beginning of the set by the incessant Trentino's liveliness at the blocks (11 winners), at serve (as many) and especially in the break point phase. Only in the second partial, won in a comeback (from 11-14 to 25-22), Cucine Lube managed to reply effectively; in the other three, however, Trento accomplished the game, already well begun in the first half, dragged by the attack squad: Lavia (17 points with 54% and three blocks), Michieletto (12 with three aces and two blocks) and especially Kaziyski. The captain scored 29 points with 52%, four blocks and two hit points, pushing his teammates whenever needed. The MVP award could only be his.
Below is the scoreboard of the match valid for the sixtieth matchday of the regular season of SuperLega Credem Banca 2022/23 played tonight at the Eurosuole Forum in Civitanova Marche.
Cucine Lube Civitanova-Itas Trentino 1-3
(19-25, 25-22, 19-25, 18-25)
CUCINE LUBE: Anzani 2, Gabi Garcia 2, Nikolov 14, Diamantini 4, De Cecco 1, Yant 14, Balaso (L); Zaytsev 19, D'Amico, Chinenyeze 2 N.e. Sottile, Gottardo, Ambrose. Coach: Gianlorenzo Blengini.
TRENTINO ITAS: Kaziyski 29, Lavia 17, Podrascanin 8, Sbertoli 3, Michieletto 12, Lisinac 3, Laurenzano (L); Nelli, Džavoronok, D'Heer 3. N.e. Cavuto, Pace, Berger, Depalma. Coach: Angelo Lorenzetti.
REFEREES: Vagni from Perugia and Piana from Carpi (Modena).
SET DURATION: 24', 27', 28', 26'; tot. 1h and 45'.
NOTES: 2,689 spectators, proceeds of 41,018 euros.
Cucine Lube: 5 blocks, 7 aces, 14 serve errors, 6 action errors, 42% in attack, 37% (17%) in reception.
Itas Trentino: 11 blocks, 11 aces, 16 serve errors, 4 action errors, 49% in attack, 44% (24%) in reception. MVP Kaziyski.
Trentino Volley Srl
Press Office