Kedzierzyn-Kozle (Poland), 25 January 2023
Grupa Azoty Kedzierzyn-Kozle-Trentino Itas 2-3, the match report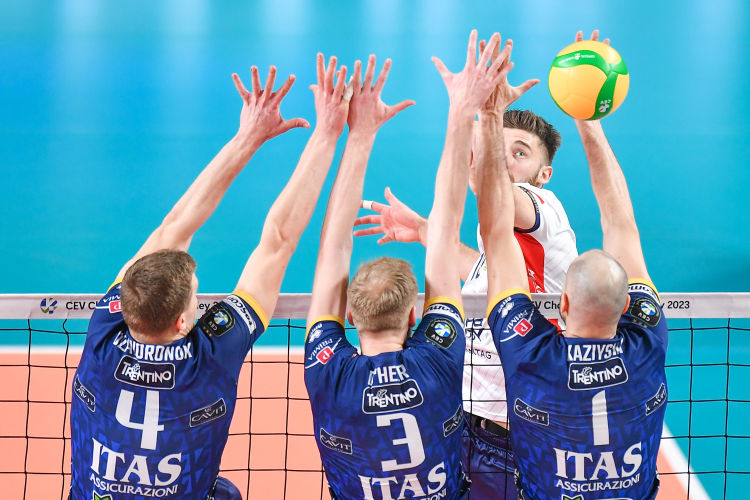 Here is the match report. Trentino Itas gets on the European reigning champions' court without Lisinac (he stayed in Italy for a different schedule); yellow-blue team's starting six includes Sbertoli as setter, Kaziyski as opposite spiker, Michieletto and Lavia place 4, D'Heer and Podrascanin as middle blockers, Laurenzano as libero. Grupa Azoty Kędzierzyn-Koźle replies with Janusz as setter, Kaczmarek opposite spiker, Bednorz and Sliwka as hitter spikers, Pashitskii and Smith middle blockers, Shoji libero. The yellow-blue team struggles in reception and block; in a few seconds the hosts hold the reins of the game with Sliwka (2-1 and 4-8). Lorenzetti calls a time-out, but when the game restarts, the reaction did not change, in fact Bednorz and Kaczmarek made Grupa Azoty sprint, firstly on 8-16 and then at 12-20. The end of the first set is quick, on 17-25, even though Podrascanin proudly blocked some set-balls, in attack and then at serve.
In the second set Lorenzetti confirms Džavoronok on court, who already entered in Lavia's place halfway through the previous set; Trento reacts well until 4-4, then Kędzierzyn-Koźle goes further at serve and in attack (5-8) and beats the yellow-blue team's again (7-14 and 8-19), especially because of Kaczamrek (unstoppable) and Bednorz, highly efficient. Lorenzetti calls Lavia back on court, but the set closes in favor of the Polish team that take home the 2-0 on 15-25.
Trentino Itas then reacted at the start of the third set, buoyed by Lavia's and Kaziyski's serves; it was immediately 4-1 and then 7-2, with Michieletto drawing attention with his blocks. Thereafter, the yellow-blue team held well in the sideout phase (13-7), before suffering a small uselessly pass (13-9) that advised Lorenzetti to interrupt play. At the restart, in fact, Grupa Azoty can no longer get close again, because Trento passes with regularity in attack after reception (20-15) and also manages well the break point chances, reopening the match on 25-18 (ace by an excellent Michieletto), which then goes to the fourth set.
It becomes a hard-fought point-to-point duel in the following set, with Kedzierzty-Kozle trying to run away with Sliwka (6-8), but it is immediately taken back and overtaken by Kaziyski and a sensational Michieletto (11-9). A block by D'Heer brings about the maximum lead (+3, 16-13), which lasts only a short time, however, because Sliwka lights a fire under his serve and inspires the draw points (18-18). Lorenzetti interrupts the game and on restart Sbertoli's block on Bednorz is worth the new +2 (20-18), but Smith's lucky ace immediately allows the immediate hooking (20-20). At the sprint, Michieletto's block on Sliwka decided the first set point (25-23).
The tie break immediately sees the guests run away (5-1 and 8-4) thanks to Podrascanin's scratch and Michieletto's attacks. The hosts lavished maximum effort and got to minus two (11-8) and then even to minus one (12-11), before finally pulling themself back together again at 15-12, due to a serve error by Janusz.
Trentino Volley Srl
Press Office