Trento, 07 May 2023
Itas Trentino-Cucine Lube Civitanova 3-0, the match report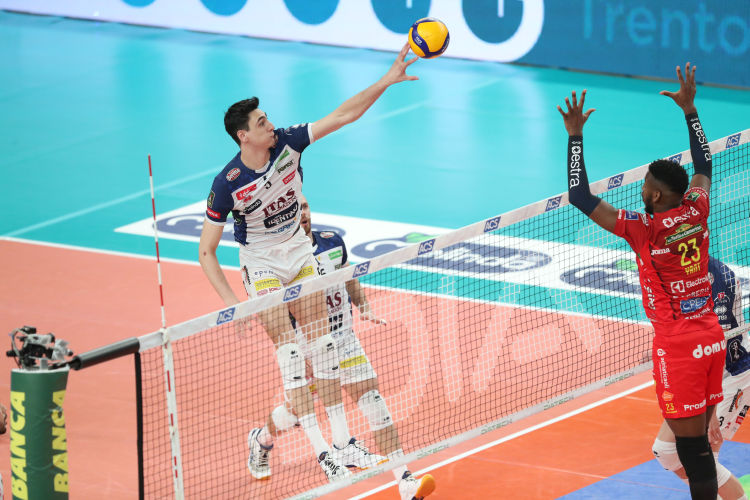 Game 3 report. The 4,000 spectators of the BLM Group Arena, sold out every seat for the second time in six days, welcome to the court the two teams lined up with the best possible current starting six; that of Itas Trentino, still without Lisinac, includes Sbertoli as setter and Kaziyski as opposite, Michieletto and Lavia as wings, D'Heer and Podrascanin as middle players and Laurenzano as libero. While Cucine Lube persisted with De Cecco as setters, Zaytsev as opposite, Nikolov and Yant as wings, Anzani and Chinenyeze as middle players and Balaso as libero. The first strike of the match bears the signature of Kaziyski (ace worth 4-2), who is answered by Yant in attack (6-6). The yellow-blue line-up brought another spurt again with Matey (smash) and a Zaytsev error at the net (10-8) and then again with a block by Michieletto on the guest opposite and Podrascanin's counterattack (14-10). The Serbian middle player also scores with serve (point on Balaso for 18-12) and the hosts run away fast to win the first set, dragged by the serve (22-14) and the block (25-17).
In the second set, Blengini chooses to keep Gabi Garcia and Bottolo on the court, respectively, in position of Zaytsev and Nikolov, as had happened in the finale of the previous one; the two teams fight evenly until 6-6, then Lube pushes with Yant's serve and the block of the same opposite succeeds scoring the +3 (6-9). Michieletto replies almost immediately on his own with an attack and a block, tying the score at 11 (Blengini asks for a time out); later the contest becomes even more tense and with greater quality (13-13, 15-15), with the protagonists exalting the audience with superlative plays. D'Heer (quick attack and block on Yant) scores 3 points (19-16), then Lavia signs two consecutive aces for 21-16 that brings Itas Trentino to a 2-0 lead, which comes as early as 25-20.
On the wave of enthusiasm, the yellow-blue team also got off to a great start in the third set (6-4, 10-7 and 12-7), backed by great defensive intensity and high ball scoring ability. By the middle of the set Cucine Lube had already used up both timeouts at their disposal and on the return to the court they did not react anymore, also because Kaziyski between serves and attacks leaves no answers (14-8 and 17-9). The 3-0 lead came quickly (20-15 and 25-16), among the frenzy of the fans and with Džavoronok also at his best (four points within a few passes).
Trentino Volley Srl
Press Office