Civitanova Marche (Macerata), 12 May 2023
Play Off, Lube ties the score at 3-1 in the game 4 home match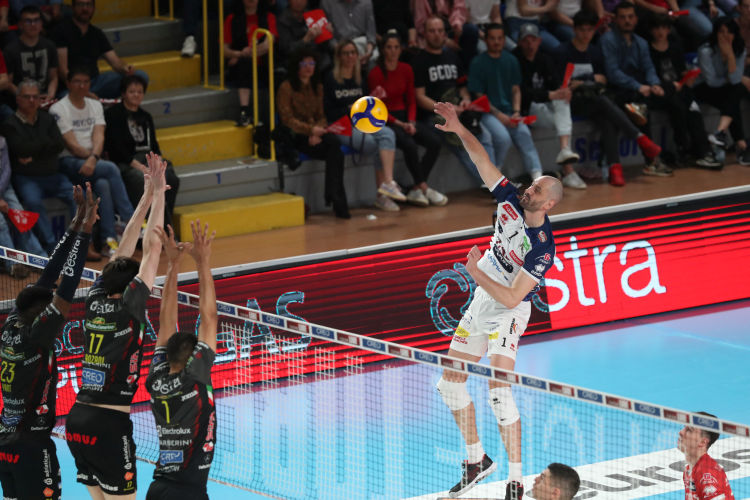 The Final Scudetto series will be over on Wednesday May 17th at the BLM Group Arena with the fifth and last definitive game that will declaim the male volleyball championship title 2022/23. Tonight, in Civitanova Marche, Itas Trentino did not make it to settle the score and was defeated 3-1 in game 4 at the Eurosole Forum, Cucine Lube home court.
The yellow-blue team will have another chance to do so in front of their home crowd five days from now, taking advantage of the indications that emerged during the almost one-hundred-and-ten-minute match, in which they were only able to offer their best in the middle sets (second and third). What Lorenzetti's team regrets the most is having gone 0-2 after giving the illusion to be able to tie the score; however, the promising 21-18 was not enough to gain the 1-1, but then the set-victory arrived thanks to Michieletto (12 points with 2 aces) and Kaziyski (16 with 52% and 4 scoring-serves). On 1-2 Civitanova was leader again, going through with the service (12 aces) and attack (team 59%), which are some fundamentals, in which Trentino lacked a little bit tonight.
Below is game 4 scoreboard of the Play Off Scudetto Final SuperLega Credem Banca 2023 played tonight at the Eurosole Forum in Civitanova Marche.
Cucine Lube Civitanova-Itas Trentino 3-1
(25-18, 27-25, 20-25, 25-16)
CUCINE LUBE: De Cecco, Yant 24, Anzani 8, Nikolov 7, Bottolo 11, Chinenyeze 9, Balaso (L); D'Amico, Gottardo, Gabi Garcia 14, Diamantini. N.e. Sottile e Ambrose. Coach Gianlorenzo Blengini.
ITAS TRENTINO: Lavia 10, D'Heer 3, Kaziyski 16, Michieletto 12, Podrascanin 8, Sbertoli 5, Laurenzano (L), Nelli, Džavoronok 3. N.e. Cavuto, Pace, Berger, Depalma. Coach Angelo Lorenzetti.
REFEREES: Cesare from Rome and Lot from Santa Lucia di Piave (Treviso).
SET DURATION: 18', 33', 27', 22'; tot 1h 47'.
NOTES: 4.045 spectators, proceeds: 82.530 euros. Cucine Lube: 5 blocks, 12 aces, 19 hitting errors, 6 action errors, 59% in attack, 41% (17%) in reception. Itas Trentino: 6 blocks, 7 aces, 9 hitting errors, 9 action errors, 49% in attack, 45% (19%) in reception. Mvp Yant.
Trentino Volley Srl
Press Office