Trento, 17 May 2023
Itas Trentino, Champion of Italy for the fifth time in its history!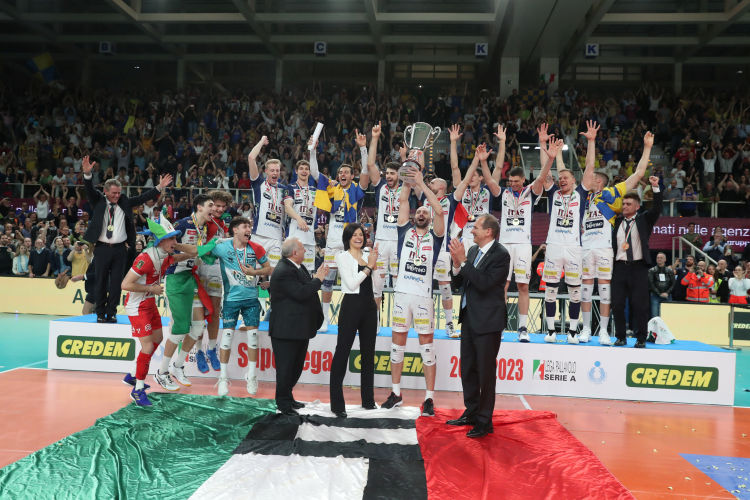 Champion of Italy for the fifth time! In front of its own public and in its own playing facility, where fifteen years earlier it had celebrated its first historic victory. This evening, Itas Trentino achieved the crowning of its long march toward Scudetto number 5 in its twenty-three years of activity.
A little more than eight years since the last time (on May 12th, 2015, in that circumstance in Modena), the yellow-blue club thus rewrote its name in the roll of honor of the most beautiful and difficult championship in the world. Itas Trentino did so deservedly, overcoming in the last act of the tournament, Cucine Lube Civitanova which had won the Scudetto from 2019 to date, for three consecutive editions of the SuperLega.
The celebration for the winning of the 20th trophy in the company's trophy case was sparked this evening at the end of a Game 5 of the final that saw Lorenzetti's team taking advantage of the second of the two chances to close the account in the series.
After a struggling Game 4, the yellow-blue team came back to dominate the scene at the BLM Group Arena, putting their opponents from the very first passes at the corner as had happened in Game 3 and showing great mental resilience even when Cucine Lube tried to menacingly fight back.
That was in fact what happened in each of the three sets, the yellow-blue line-up was incisive in all the fundamentals during the break point phases (10 blocks, 9 aces, 39% on counterattack) and ready to hold back any opponents' comeback attempts.
But with such an inspired attack squad (Michieletto 17 points with 3 blocks; Kaziyski 13 points with 3 aces and 1 block; Lavia 11 points with 53% on the net, 2 blocks and 2 serve points) there was really no chance to replay all the way.
This is the best possible way to end a season where Itas Trentino has always been the main character of all six competitions played, by taking part into three Finals (included the Italian Cup and Volleyball Club World Championship ones) and proving on each game court how serious, ambitious and... successful that rebuilding project begun in the summer 2021 was.
Here is the scoreboard of game 5 of the Final Play Off Scudetto SuperLega Credem Banca 2023 played tonight at the BLM Group Arena in Trento.
Itas Trentino-Cucine Lube Civitanova 3-0
(25-20, 25-20, 25-19)
ITAS TRENTINO: Sbertoli 3, Lavia 11, D'Heer4, Kaziyski 13, Michieletto 17, Podrascanin 7, Laurenzano (L), Nelli 1, Džavoronok. N.e. Cavuto, Pace, Berger, Depalma, Lisinac. Coach Angelo Lorenzetti.
CUCINE LUBE: Chinenyeze 6, De Cecco 1, Yant 11, Anzani 5, Nikolov 12, Bottolo 7, Balaso (L); D'Amico, Gottardo, Gabi Garcia 1. N.e. Sottile, Diamantini and Ambrose. Coach Gianlorenzo Blengini.
REFEREE: Puecher of Rubano (Padua) and Florian of Altivole (Treviso).
SET DURATION: 29', 24', 27'; tot 1h 20'.
NOTES: 4,000 spectators, taking €86,760. Itas Trentino: 10 blocks, 9 ace, 12 hitting errors, 3 action errors, 49% in attack, 62% (25%) in reception. Cucine Lube: 6 blocks, 1 ace, 12 hitting errors, 6 action errors, 39% attack, 34% (11%) reception. MVP Kaziyski.
Trentino Volley Srl
Press Office