Trento, 05 June 2018
Trentino Volley says goodbye to Filippo Lanza. The captain has been transferred to Perugia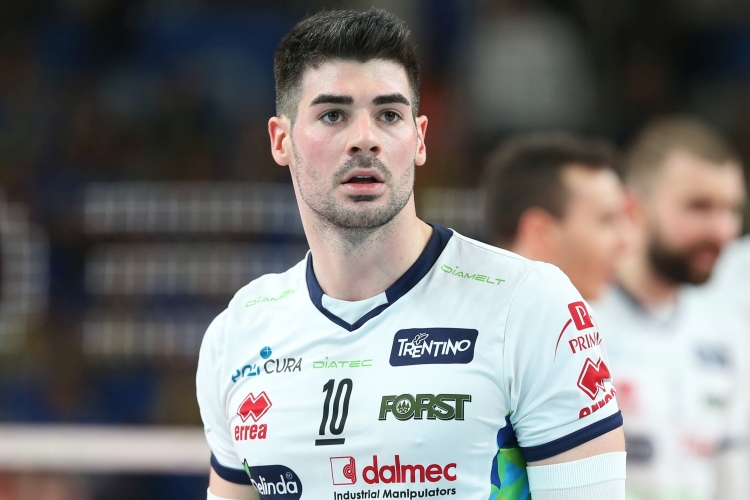 Filippo Lanza (ph. Trabalza)
Trentino Volley says goodbye to Filippo Lanza. During the next season he will wear the jersey of Sir Safety Perugia, the club to whom Trentino Volley definitively has ceded him today. After eleven season the adventure with the yellow-blue jersey of one of the most representative players of the club has now ended: not only he conquered nine titles on the field (two World Championships, 2 Scudetti, 2 Italian Cups, 2 Italian Supercups and 2 Scudetto Junior League), Filippo Lanza also reached the 300 official presences during this last Play Off and he's the second marker of the yellow-blue history, having scored 2877 points.
"When a player who spent more than 10 years in our club decides to go away it always hurts - said the president Diego Mosna - . Even more so when this athlete is Filippo Lanza, who did much for our club, starting fro the under 15 until becoming the captain and symbol of the most important team. I didn't want to definitively give him to Perugia; I would have preferred to borrow him in order to have him back here in the future but this was what he wanted, and I accepted it. I want to thank him on the behalf of the whole society for what he did inside and outside the field for the team, for the public and for our environment in general. Our door will always be open for him".
"Leaving Trentino Volley has been a personal choice, and I'm taking the whole responsibility for making it- said Filippo Lanza - . I had the opportunity to go to Perugia for a very exciting challenge which will help me grow professionally and as a person; I don't know if another opportunity like that might have happened in the future, that's why I felt like seizing it. It hasn't been an easy choice because I'm leaving a Club that gave vary much to me, they sow me growing and they supported me every time I needed it. I can only thank them for everything they did for me in the past ten years that we lived together. Thank you Trento".
Trentino Volley Srl
Press Office