Trento, 18 September 2018
ITAS Assicurazioni returns as main sponsor: the team's name is "Itas Trentino"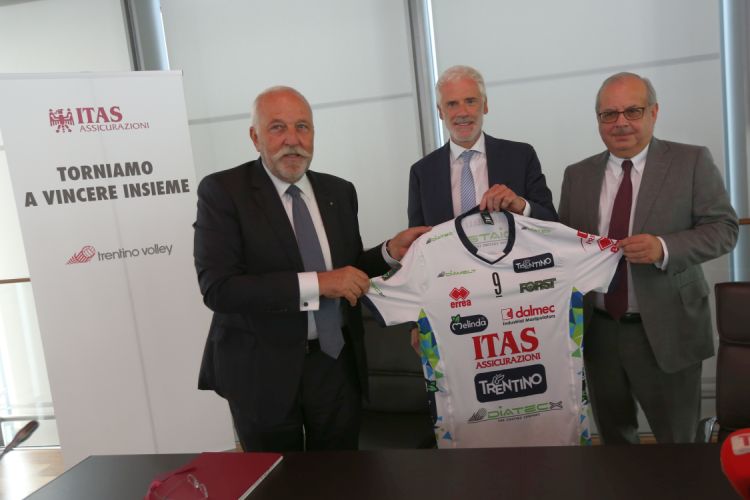 Starting today ITAS Assicurazioni is the new Main Sponsor of Trentino Volley. For the next two seasons the oldest italian insurance company will be once again the title sponsor of the Yellow-blue team, that will play under the official name "ITAS Trentino" in all the competitions in which it will take part (SuperLega, Supercoppa Italiana e Coppa Italia).
The famous partnership that marked the history of recent volleyball (between 2000 and 2013 ITAS was already main and title sponsor and part of the sponsor pool in the following seasons) was officially announced yesterday during the press conference in the Sala del Consiglio at ITAS headquarters in Trento.
"We have been sharing a common path for a long time - explained Fabrizio Lorenz President of ITAS Mutua - ; despite working in different business sectors we have strong values in common, like reliability and professionalism. Our partnership brought exceptional results in the past, great victories and equal care and dedication to the young players and the youth teams. In this aspect Trentino Volley is an excellence in the sports world and the results of the hard work are easy to see, we can admire them during the World Championship matches. Our project continues together, as it was in the past seasons, but with much stronger effort from our side. We are back playing a crucial role, not only chasing victories but also promoting our shared values. We want to keep writing history, together".
"This is not a comeback, because actually ITAS never left our side in the last five seasons, even if it wasn't the main sponsor - explained Trentino Volley's President Diego Mosna - . Starting today its support will become stronger and more important and will be fundamental to keep playing at the highest level. They will support the Youth Teams, something we both have dear at heart. We are very thankful, we hope our partnership will continue to write unforgettable pages of history".
"When we were presented with this opportunity we talked together and appreciated, since we are talking about the history of our company - added Raffaele Agrusti, ITAS General Manager - . Let's continue on the path we started many years ago. We want to give back to all ITAS partners and customers: we want to stay close to our land, proving that the best share of profit we can give is the chance to do sports, at high level. In this Trentino is a virtuous model to copy and promote".
"Trento can boast a four-time World Champion volleyball team and the first insurance company in Italy; I don't consider this something normal for a city with hundred and seventeen thousands inhabitants - stated Tiziano Uez, Council Member for Sports of the Municipality of Trento - . It's with pride and satisfaction that we see two pillars of our society coming together in a winning partnership; in Trentino volleyball was always ITAS and it will continue to be so".
Trentino Volley Srl
Press Office
PHOTO GALLERY
{gallery}gallery/2017-2018/Altri eventi/07 - ITAS di nuovo main sponsor, la conferenza stampa (foto Trabalza){/gallery}