Trento, 19 March 2019
Trentino Itas-Galatasaray Istanbul 3-0, the match report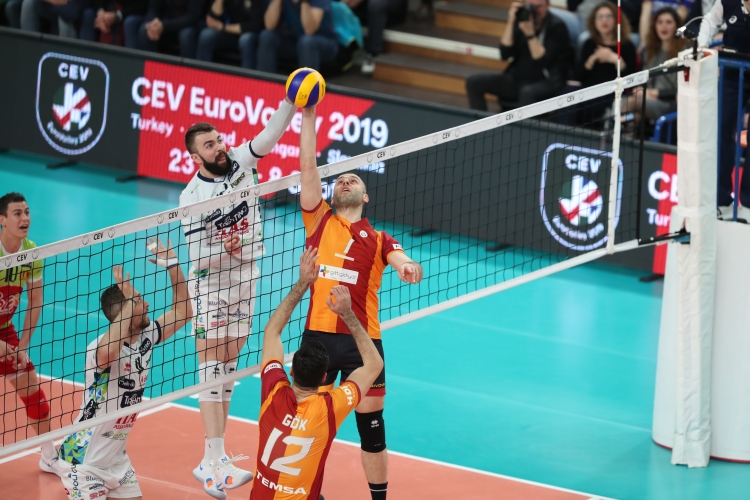 Report of the match. Trentino Itas comes in front of its public without Lisinac, who won't even start from the bench, for the last home European match of the season; the starting six sees Giannelli as setter, Vettori in the opposite role, Kovacevic and Russell as spikers, Codarin and Candellaro as middle-blockers and Grebennikov in the libero role; Galatasaray fields Keskin as setter, Venno in the opposite role, Antonov and Aydin as spikers, Ulu and Gok as middle-blockers and Cakir in the libero role.
The start of the match is in favour of the hosting team which fights until 4-4 before distancing itself with Giannelli at service (two aces until 10-5). The Turks have already ran out of the time-outs at their disposal on 12-5 (another break with block of Candellaro) but Trentino Itas doesn't slow its pace and overtakes its opponents of a lap with a very inspired setter (16-8) getting fast towards 1-0 (20-11, 22-12) without any trouble: 25-15 with Codarin scoring at the third set ball.
The match doesn't change in the second set with Galatasaray immediately in troubles in side-out phase due to an imprecise reception and to the home attack which is on fire (6-3). The team from Istanbul tries to hit back (11-9, 13-11), thanks to Venno's spikes but Trento has more quality on the long run and increases the gap with Russell and Vettori (17-12 and 19-14). The final part of the match is again dominated by yellow-blues who manage to keep the situation under their control (22-15); the hosts gets very nervous making a lot of mistakes and 2-0 comes on 25-15.
The third set starts like the other previous ones. Vettori shows his qualities at service (from 8-6 to 11-6) versus a second red-yellow line which struggles a lot.
Galatasaray scores less and less and only with Venno but it isn't enough (14-9, 17-11); the many changes made by Ozebey can only extend the match for a bit longer.
The end of the match comes 25-20 at BLM Group Arena with the young Simoni on the field as well.
Trentino Volley Srl
Press Office