Trento, 13 April 2019
Itas Trentino beats Padova 3-0 during the match n.3 of quarter finals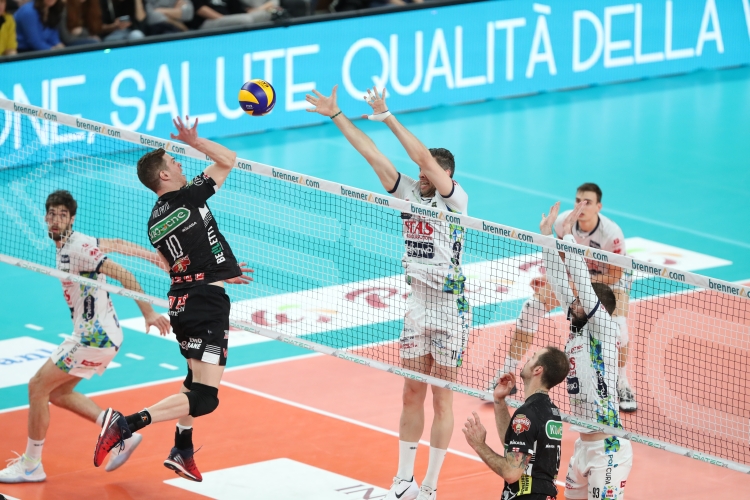 In the most important moment of its season in SuperLega Credem Banca, Itas Trentino does not disappoint the expectations gaining a well-deserved access to the Play Off championship nth Semifinal of its recent history. In the third and definitive playoff match of quarter finals vs Kioene Padova, the World Champions have turned page compared with the ko of last Sunday in the region of Veneto, beating the opponents in only three sets at BLM Group Arena: exactly this victory was needed for the qualification to the 12th semifinal ever, which is planned on Tuesday 16th April at 20.30, when it will be the time for the best one of the five matches vs Cucine Lube Civitanova. In order to achieve this access defeating Padova – which was strongly applauded though – Giannelli and his fellow have showed strenght and aggression since the very first moment, which have resulted in excellent scores in attack (66% by the whole team with only 3 errors) and in the excellent work during the break point (scored 23 times). The recovery of Kovacevic and the great performance of Russell (mvp with 76% in the net area and 16 personal points, as many as the ones of Uros) have helped Itas restoring those certainties that were vanished in match n.2, heading in a confident way towards the next turn, obtained leading the first and third set and winning the second partial – the only one intensive clash.
Here the scoreboard of the turn 3 of quarterfinals Play Off Championship Credem Banca 2019 that has been played tonight at BLM Group Arena.
Itas Trentino-Kioene Padova 3-0
(25-18, 25-23, 25-17)
ITAS TRENTINO: Candellaro 4, Vettori 11, Russell 16, Lisinac 8, Giannelli 2, Kovacevic 16, Grebennikov (L); Nelli. N.e. Van Garderen, Cavuto, Daldello, De Angelis and Codarin. Coach. Angelo Lorenzetti.
KIOENE: Polo 6, Torres 12, Barnes 5, Volpato 6, Travica 1, Louati 9, Danani La Fuente (L); Cirovic, Cottarelli. N.e. Bassanello, Fusaro, Sperandio, Premovic, Lazzaretto. Coach. Valerio Baldovin.
REFEREES: Vagni from Perugia and Gnani from Ferrara.
SET DURATION: 28', 30', 24'; tot 1h and 22'.
NOTES: 2.687 spectators, takings 32. 081 euros. Itas Trentino: 6 blocks, 5 aces, 15 mistakes in serving, 3 mistakes in action, 66% in attack, 48% (25%) in reception. Kioene: 4 blocks, 6 aces, 8 mistakes in serving, 8 mistakes in action, 46% in attack, 59% (24%) in reception. Mvp Russell.
Trentino Volley Srl
Press Office