Trento, 05 June 2019
The physical trainer Guazzaloca:"I've got a lot of ideas for my job from this past season"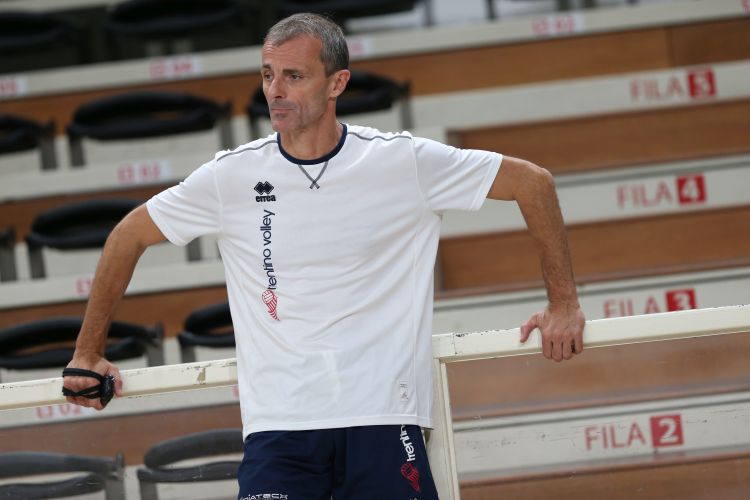 Alessandro Guazzaloca is among the many members of the technical staff who are now focusing on the post-season month of activity of Trentino Volley at BLM Group Arena.
The yellow-blue physical trainer follows the players in the weight-room twice a week, giving them advices about how making some exercises or on their work to do during this summer, when their training in Trentino will be concluded.
"Our activity in this period is mainly technical and so my target is the one to give the players the means to keep a good physical shape to train at their best on the main field – explained the trainer from Emilia to Trentino Volley TV - . I'll therefore schedule training sessions to check the physical condition of every player in order to be prepared for a lot of training in few days".
The season that just ended, which is the second one for Guazzaloca in Trento, provided a lot of food for thoughts for the preparation of next one, which will see the yellow-blues coming back to gym in late August. "The months of May and June are usually the ones used by the technical staff to carefully analyze in detail what happened in the previous eight months – he confirmed - . I can really say that, from my point of view, professional season 2018/19 has been very positive, beyond results. The route taken by us has surely been important, also because we have always been able to keep our physical shape on high levels and this is not a foregone conclusion. We received a good feedback from the innovative working method that we applied to our training, it is something new related to my past but it gave something positive for sure and we will try to further improve in the future. I prepared a training programme for the next two months for the few players of the roster who weren't gathered by their National Teams, in order to immediately start from a good starting point when we'll start our preparation. Codarin and De Angelis are a special case from this point of view, since they're training with us during this period. I'm curious and excited about start training the newcomer Klemen Cebulj, a spiker who surely have good physical qualities but who I've never had the chance to follow before. We will therefore schedule a training programme for him, in order to make him further improve, if possible".
Trentino Volley Srl
Press Office