Trento, 18 October 2019
Between celebration and innovation: here are the new Erreà Sport shirts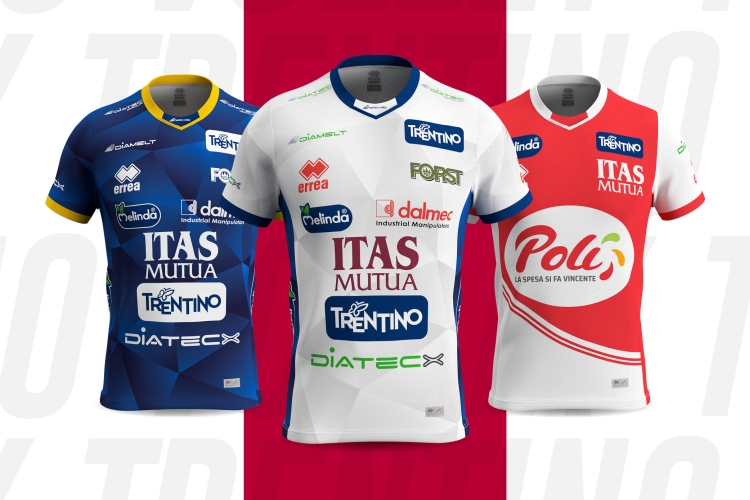 The evening at the BLM Group Arena had many surprises for its more than 3,300 guests. One of the most appreciated has been the presentation of the new shirts, completely redesigned by Erreà Sport (technical sponsor since 2006), but still with many reminders of the great past and symbology of the area.
The real newness is the shirt number three, a shirt that Trentino Volley never had before, added to pay a tribute to the tradition, by reproposing the traditional colors of the first two seasons of the Club (2000/01 and 2001/02), colors immediately recognised by the most expert fans. It is going to be used on particularly occasions, as a substitute for the first two.
The colors of the other two are still the same: the first one white, with some blu inserts whereas the second one is blue with yellow profiles. On all three shirts there is the usual triangular pattern resembling the mountains used by Trentino Marketing in advertising campaigns, this time covering all available space and not just on the sides, like on the two previous versions. Seventeen sponsors on the shirt, two more than last year: Itas Mutua, Trentino Marketing, Diatecx, Diatec Group, Melinda, Gpi, Supermercati Poli, Primia, Diamelt, Dalmec, Erreà Sport, Menz&Gasser, Sorelle Ramonda, Tescoma, Forst, Tei e Walliance.
Also the libero shirt worn by Jenia Grebennikov and Carlo De Angelis is a bit different. This time Supermercati Poli's followers on the social media have decided for a more-evocative-of-the-past shirt, the brand's name is going to be on the shirts of both liberos also this year. The contest was launched this summer by the historical sponsor and it has allowed the followers to choose between three very different options and after many preferences it has awarded the red version with white inserts on the inside.
All pieces have been made by Erreà Sport with "Aria" material, an Italian fabric of the latest generation, characterised by its thinness and breathability. It is provided with little holes from which the air comes in and the heats comes out, adherent but light, Aria is the best to ensure the maximum comfort possible during the match.
Starting from end of October, the four shirts are going to be sold in Trentino Volley's offices, in via Trener, in the store section on our official website at the link www.trentinovolley.it/store and in the point of sale opened at the BLM Group Arena on the occasion of the matches.
Trentino Volley Srl
Press Office