Trento, 07 November 2019
The "Menz&Gasser Day" at the BLM Group Arena on Saturday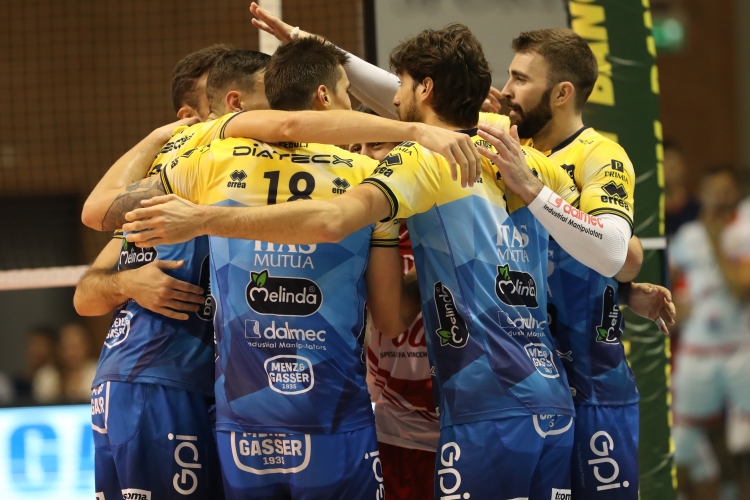 It will be time for a "Menz&Gasser Day" on Saturday 9th November, on the occasion of the match counting as the fourth round of regular season SuperLega Credem Banca 2019/20, to be played against Calzedonia Verona at the BLM Group Arena (6pm).
To celebrate this long partnership, Trentino Volley and Menz&Gasser - sponsor since six seasons - have decided to give rise to a special initiative that will make this second home match even more interesting. Right after the initial greetings, the players will throw some Menz&Gasser's gadgets to the audience. Also the match program, the hospitality area, the wall video and the MVP price, directly given by Michele Bernardi (Menz&Gasser's marketing manager) are going to be characterised by the company.
The family business of third generation Menz&Gasser is headquartered in Novaledo (TN) but of propriety of a south tyrolish family. For over eighty years it has been producing marmalades, jams, single portions of processed fruit or vegetables, glass jars, buckets and baggies.
Thanks to the investments done during the years, the business is now an European leader in the production of single portions and the first Italian producer of jams and marmalades, a market in which it is present especially as manufacturer.
Menz&Gasser has always "travelled abroad" and now its export share exceeds 50%. It has two headquarters in Italy: one in Novaledo (TN), where finished products are produced and one in Verona (VR), where semi-manufactured products for the large-scale industry are produced.
Trentino Volley Srl
Press Office