Trento, 09 November 2019
The derby of the Adige ended at the tie break: Itas Trentino gains the 4th round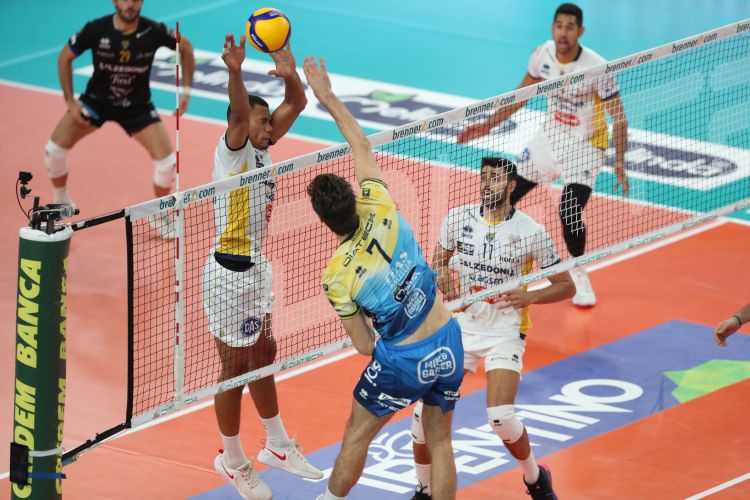 After nearly two and a half hours of match, the thirty-eighth derby of the Adige smiles at the Itas Trentino, which confirms its seasonal unbeaten run in SuperLega Credem Banca 2019/20 but grants the first point in the regular season to the opponents. This evening at the BLM Group Arena, the World Champions have gained the fifth set of the fourth regular season round against Calzedonia Verona.
As tradition of the best Adige derbies, the match was hard fought and uncertain until the end; in the first half of the race the hosts got to the 2-0, but later they had suffered the revival of Verona. In the fifth set decisive the actions of Vettori (mvp with 18 points and 50%) and blocks of Russell (best scorer of the team with 20 points, 52% at the net area, two aces and two blocks) on Boyer have been decisive. Among the public, Lisinac's attitude was also very popular (13 winning balls with 69% in the first set, 2 two blocks and 2 aces) and Grebennikov's presence on the second line.
Below is the scoreboard of the match of the fourth day of SuperLega Credem Banca 2019/20 regular season played this evening at the BLM Group Arena in Trento.
Itas Trentino-Calzedonia Verona 3-2
(25-22, 25-22, 21-25, 19-25, 16-14)
ITAS TRENTINO: Candellaro 5, Vettori 18, Russell 20, Lisinac 13, Giannelli 3, Kovacevic 19, Grebennikov (L); Cebulj, Michieletto, Djuric, Daldello. n.e. De Angelis and Sosa Sierra. Herds Angelo Lorenzetti.
CALZEDONIA: Solé 9, Boyer 21, Asparuhov 21, Birarelli 7, Spirito 1, Muagututia 18, Bonami (L); Marretta, Kluth, Cester n.e. Franciskovic, Zanotti, Donati, Chavers. Herds Radostin Stoytchev.
REFEREES: Tanasi from Noto (Syracuse) and Cappello from Sortino (Siracusa).
DURATION SET: 29 ', 30', 29 ', 28', 26 '; tot 2h and 22 '.
NOTES: 3,192 spectators, for a collection of 29,558 euros. Itas Trentino: 12 blocks, 8 aces, 22 serving mistakes, 9 action mistakes, 46% in attack, 60% (39%) in reception. Calzedonia Verona: 13 blocks, 7 aces, 20 serving mistakes, 7 action mistakes, 48% in attack, 63% (33%) in reception. Mvp Vettori.
Trentino Volley Srl
Press Office