Trento, 14 November 2019
Sosa Sierra's absolute debut against Piacenza: "The beginning of my 2.0. volleyball life"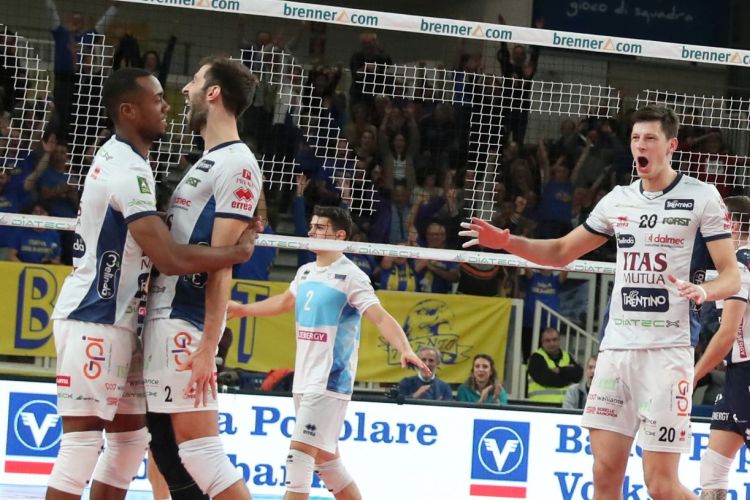 Debuting in SuperLega and scoring the match point with a four-metres strike are the dreams of any volleyball player. Until Wednesday evening, in all probability, they had been dreams even for Luis Sosa Sierra, who, however, just on the occasion of the home match against Piacenza (won 3-1 by Itas Trentino) was able to fulfil this type of desire.
After five games on the bench without having the opportunity to come into the court, Angelo Lorenzetti chose this circumstance to offer him the first official appearance with the jersey of Trentino Volley. And the middle-blocker from Havana, already arrived last February in Trento but in the official roster only this season, has not had to be asked twice: at the first chance he grounded with great power the ball that closed the match against Gas Sales, giving three more important points for the standings of the team.
"I'm enthusiastic and still very pumped up because I would never have thought to come in", Luis admitted today. It was a great gift from the coach but also from my teammates because, for example, Giannelli immediately raised a perfect ball to attack in that way. I'm happy, it's a dream come true after three difficult years in which I've never lost the desire to train and think about volleyball".
To better understand how valuable was for Sosa Sierra what he lived at the BLM Group Arena, just think about his last match, played a long time ago – "On July 3rd 2016, Cuba-Portugal 3-2 for a World League match - says firmly - . It has been a long time since then, I had to deal with a difficult situation, and I had to be strong. But now I can say it loudly: thanks to the match played in Piacenza my career 2.0 has started, trying to play a different role. Previously I had always played as a central hitter, but since I arrived here in Trento the staff proposed me this change, that motivates me a lot. I still have to work on striking and receiving, that are so unnatural to me, but I feel lucky to have around people who never stop helping me, encouraging me or giving me precious advices. I am talking about Lorenzetti, the whole staff and my teammates. I thank them all. For a Cuban, living in Trento is a particular thing, but thanks to them and the Company everything is easier. My goal for this season? Carve out a space in this team, improve and maybe in the future play a bit more".
After having rested the whole day, Itas Trentino will go back to the gym on Friday morning, training for next match: November 17 at 18:00 PM, Milan.
Trentino Volley Srl
Press Office