Milan, 17 November 2019
Itas Trentino wins against Milano: 3-1 victory in the sixth round of SuperLega at PalaLido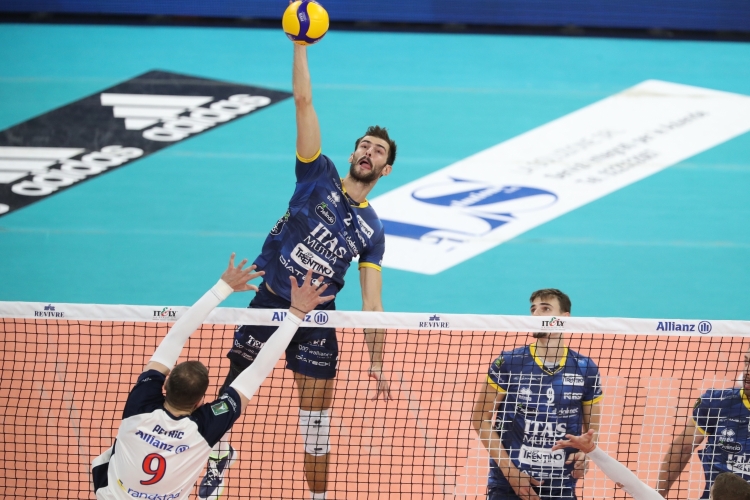 The return at PalaLido is very happy for Itas Trentino twelve years after the last match. The world champions won for the sixth time in a row in six matches played in the regular season of SuperLega Credem Banca 2019/20 at Palalido in Milan. During the second set, Giannelli and his mates managed to change the pace of the match, performing a comeback in a few minutes and winning the set. The spiker Aaron Russel was one of the main character of this match; starting from the bench, the American spiker managed to change the result of the match thanks to his blocks, attacks and serves. He was the mvp of the night with 16 points. Only Vettori was better than him. In addition, the way Grebennikov and Candellaro played was remarkable thanks to their constant presence in attack (78%), block (3) and service.
Below is the match report for the sixth day of SuperLega Credem Banca 2019/20 regular game played this evening at the Allianz Cloud in Milan.
Allianz Milan-Itas Trentino 1-3
(25-18, 24-26, 18-25, 21-25)
ALLIANZ: Clevenot 12, Abdel-Aziz 22, Petric 12, Kozamernik, 9, Sbertoli, Gironi 14, Pesaresi (L); Basic, Weber. Neither. Hoffer, Izzo. Roberto Square All.
ITAS TRENTINO: Kovacevic 12, Candellaro 11, Vettori 17, Cebulj 3, Lisinac 8, Giannelli 2, Grebennikov (L); Russell 16. N.e. Michieletto, Daldello, De Angelis, Djuric, Codarin, Sosa Sierra. Herds Angelo Lorenzetti.
REFEREES: Puecher of Padua and Lot of Santa Lucia di Piave (Treviso).
DURATION SET: 23 ', 29', 26 ', 26'; tot 1h and 44 '.
NOTES: 4.203 spectators, collection not reported. Allianz: 11 blocks, 2 aces, 17 serving mistakes, 7 action mistakes, 54% in attack, 36% (20%) in reception. Itas Trentino: 11 blocks, 5 aces, 12 serving mistakes, 6 action mistakes, 50% in attack, 39% (24%) in reception. Mvp Russell.
Trentino Volley Srl
Press Office