Trento, 18 November 2019
Gialloblù, second place in the rankings. Russell: "Proud of what we did in Milan"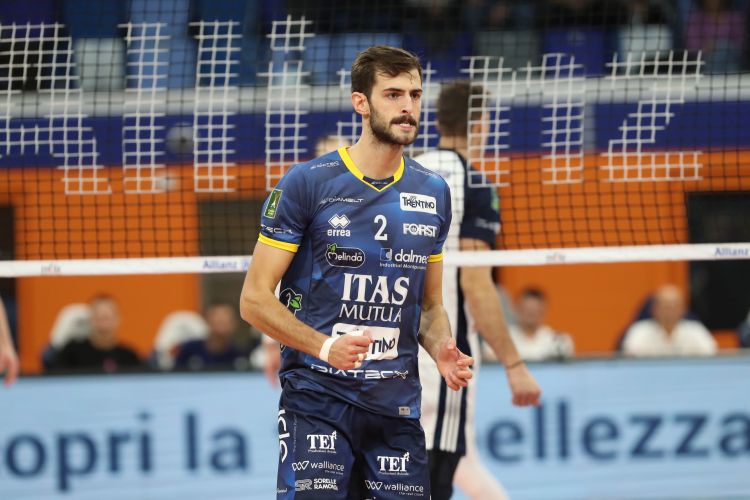 The three points won thanks to the 3-1 win in Milan and the defeat of Modena in Civitanova Marche have allowed Itas Trentino to get up, for the first time in this regular season, to the second place in the rankings. To get this position (four lengths away from the same Lube, who nevertheless played an extra game), it was necessary the Gialloblù energy. This strength allowed the team to recover during the second set (from 15-19 to 26-24) and to bring the Allianz Cloud match on the right way. The American spiker Russell was one of the main figures who fought to get points. His entry during the match changed the game, thanks to the good percentages done in attack and a significant contribution to the block, receiving and beating.
"Having more spikers this season who can start off as starters and take turns on the pitch in any situation is an advantage, and we feel safe - explained Aaron - "In Milan, after a bad first set, we were able to hold on to the game even when things didn't come naturally to us but our determination was finally rewarded. We had the right mindset and the intelligence to keep believing in the victory and that is something we have to be proud of. Wins like the one on Sunday enable us to grow and gain great confidence in our assets; moreover, we get the message across that we are a headstrong team that never gives up and this is great for all of us. Personally, I'm very happy in my second season in Trento; from the physical point of view I'm getting better and better and during the fourth set I only had to leave the court briefly due to cramps, from which I fortunately recovered".
The stats also confirm Russell's excellent start in the league: 66 points in five games played so far, with an average of 49.5% in attack: within the team, only Vettori (96) and Lisinac (98) have done better but with an extra game.
In the run-up to next match, scheduled for Wednesday, November 20 at the BLM Group Arena (8:30 pm vs Padua), the team has gone back to training already in the late afternoon today by undergoing a session of weights and individual technique.
Trentino Volley Srl
Press Office