Trento, 20 November 2019
Padova passes to the BLM Group Arena at the tie break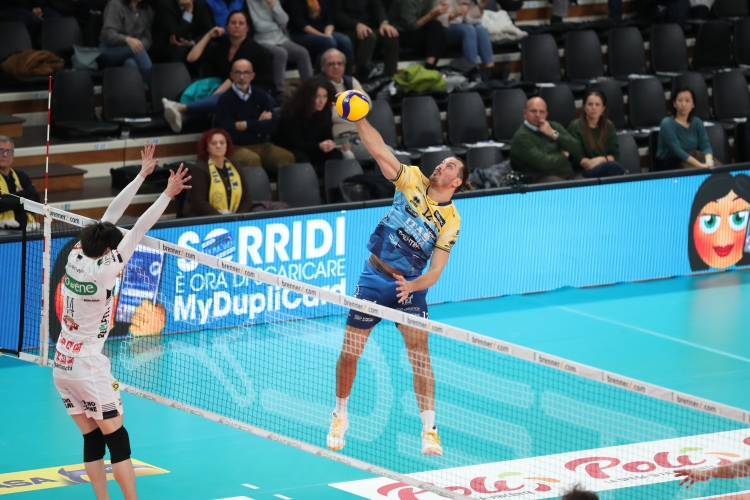 The consecutive wins for the Itas Trentino are now stop at 6. The team deal with the first defeat during the regular season of SuperLega Credem Banca 2019/20 this evening at the BLM Group Arena. Kioene Padova team interrupted the consecutive wins of the gialloblù team. They were good at taking advantage from a match of alternating current of the entire front of attack of the World Champions in order to win the contest that lasted almost two and a half hours at the tie break. The second victory in Trento for the Venetians (the only previous one is related to 2004) costs the connection in the standings to the second place of Modena (next opponent, Sunday evening in Emilia) to the gialloblù team who, despite losing, have shown tenacity in Milan in order to extend the game at least until the fifth set.
After a positive start, the home team suffered the return of the hosts, unleashed in serve and attack with Hernandez (in the end 28 points) and Ishikawa (mvp for offering a very good performance), losing the thread of their game. In the most difficult moment, (8-13 in the fourth set), the entrance of Codarin and especially Djuric (11 points with 62%) has brought new life to Itas Trentino, which has reopened the match and yielded only to the advantages in the next partial for 19-21. Vettori (11) and Russell (16 with 47%) confirmed once again in excellent conditions.
Shown below the table of the seventh day of the 2019/20 SuperLeague Credem Banca od regual season played tonight at the BLM Group Arena in Trento.
Itas Trentino–Kioene Padova 2-3
(25-20, 20-25, 19-25, 25-23, 19-21)
ITAS TRENTINO: Candellaro 9, Vettori 11, Russell 16, Lisinac 6, Giannelli 4, Kovacevic 7, Grebennikov (L); Daldello, Djuric 11, Cebulj 9, Codarin 6, Micheletto N.e. De Angelis, Sosa Sierra. Coach Angelo Lorenzetti
KIOENE: Barnes 12, Volpato 12, Travica 3, Ishikawa 17, Polo 9, Hernandez 28, Danani (L), Cottarelli, Casaro. N.e. Bassanello, Fusaro, Randazzo. Coach Valerio Baldovin.
REFEREES: Venturi from Turin and Pozzato from Bolzano.
DURATION SET: 27', 29', 27', 32', 29'; TOT 2h and 24'
NOTES: 2,832 spectators, for a total of 42,096 euros. Trentinvo Volley: 11 blocks, 4 aces, 20 mistakes at the service, 11 errors in action, 46% in attack, 67% (34%) in reception. Kioene: 10 blocks, 7 aces, 23 mistakes at the service, 5 mistakes in action, 48% in attack, 69% (28%) in reception. MVP Ishikawa.
Trentino Volley Srl
Press Office