Trento, 21 November 2019
Here again the real Djuric against Padua: "Better and better thanks to this group"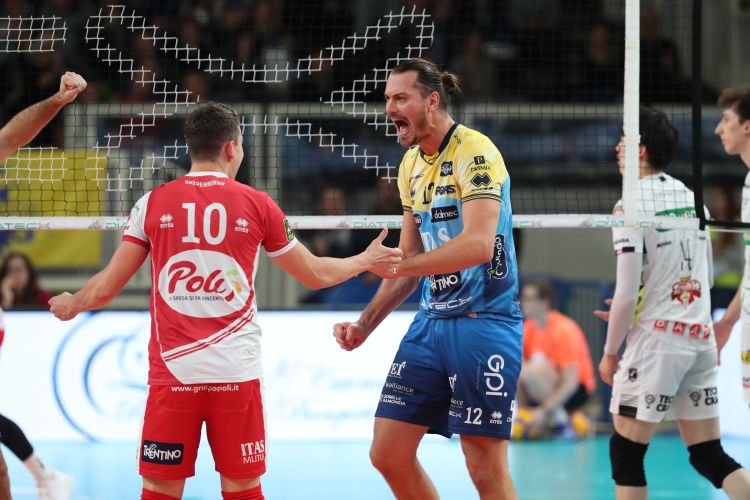 Wednesday's match at BLM Group Arena did not give Itas Trentino the victory they were looking for. Nevertheless, it delivered something important to the Club and fans. Mitar Djuric's return to the field was in fact one of the most positive aspects of the entire evening. Changed with Vettori in the most difficult moment of the whole match, the Greek opposite took little to regain the applause of his audience, becoming, with his attacks (10 with 62%), the main protagonist of the evening (25-23 victory in the fourth set performing a comeback).
"Winning would have been great and would have made even more unforgettable a day that will remain one of the most important of this period of my career - explained Mitar the day after the match -. Padova played a great game and deserved the victory, but our reaction in the second part of the match was important. Personally, I am happy to have been able to return to the field after a long time; I have not felt this well for at least two years. I am aware that the path to get back in shape is still long, but the sensations I felt were useful to understand that it is the right path. I have been training regularly for some time and I have never felt any physical problems and I feel that working with this group and with this staff is good for me".
"It seemed to me to go back in time Wednesday night at BLM Group Arena, because the audience was fantastic towards me: I thank all the fans. I always feel good in Trento - continued Djuric -. I feel good also because this group welcomed me in an extraordinary way, understanding that the moment I was living was very special. I am proud to be part of this team and to have such extraordinary teammates; we are a high-level team with a very important future ahead of us. We will have to play really well to be able to bring home a positive result on Sunday in Modena. We have the skills to win and then I have pleasant memories of PalaPanini ..."
Itas Trentino will start preparing the big match of Sunday 24 November on Friday afternoon, after enjoying a day and a half of rest.
Trentino Volley Srl
Press Office