Modena, 24 November 2019
The 73rd derby of a22 has been won by the Leo Shoes Modena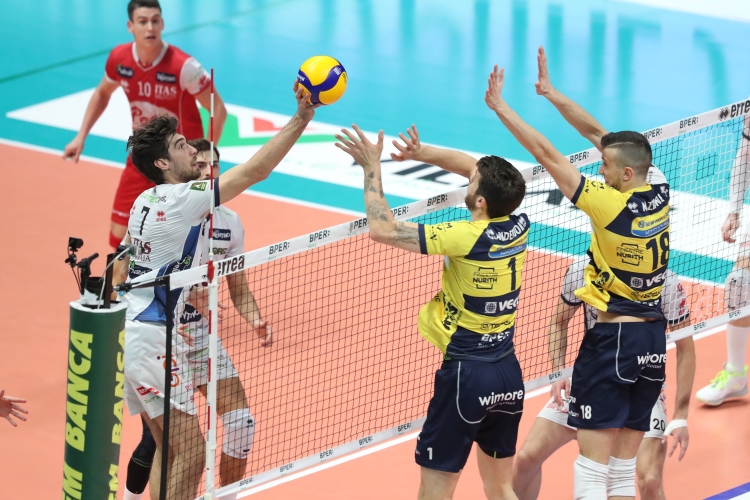 The 73rd derby of A22 has been won by the Leo Shoes Modena, giving her the lonely sec-ond place in the 2019/20 SuperLeague Credem Banca classification. Tonight at PalaPanini the Trentino Volley was not able to repeat the challenge reached in the last two matches previously played in the Emilian arena, but it has gave up with its head held high fighting shoulder to shoulder with the opponent despite the 3-1 (final result).
Was not enough a wholehearted match, pride and determination, combined with an excel-lent tactical preparation of the game, to permit at the World Champions to bring home at least one point for their ranking, that sees them now stepping down in fourth place, climbed over also by Perugia. After an aggressive starting, with a comeback victory during the first set, the Lorenzetti's team has, in fact, suffered the return of the hosts, who, however, had to draw on all their resources (particularly in the attack – at sing with 58% and just three mistakes) to get the better of the guests. With 17 points apiece, Vettori (52%, one block and two aces) and Russell (55%, with one block and 5 out of 9 aces realized by his team) have kept constantly running the Trentino Volley, who was able also to count on a great Giannelli and on Lisinac very present on the net, but without finding between the second and the fourth set a decisive action. The one that would have led the match to the tie break.
Here is the table of the match of the eighth day of the regular season of SuperLega Credem Banca 2019/20 played this evening at PalaPanini.
Leo Shoes Modena-Itas Trentino 3-1
(22-25, 25-23, 25-22, 25-21)
LEO SHOES: Christenson 4, Anderson 14, Mazzone 3, Zaytsev 18, Bednorz 16, Holt 11, Rossini (L); Kaliberda, Bossi 3. N.e. Iannelli, Sanguinetti, Pinali, Salsi, Rinaldi. All. Andrea Giani.
ITAS TRENTINO: Russell 17, Candellaro 5, Giannelli 2, Kovacevic 9, Lisinac 13, Vettori 17, Grebennikov (L); Cebulj 1. N.e. Daldello, De Angelis, Djuric, Codarin, Sosa Sierra. All. Angelo Lorenzetti.
REREFEES: Cesare (Rome) and Vagni (Perugia).
SET DURATION: 30', 32', 32', 28'; tot 2,3 h.
NOTE: 5,000 fans, with proceed of 75,320 euros. Leo Shoes: 6 blocks, 10 ace, 20 serve er-rors, 3 action errors, 58% in attack, 44% (28%) in reception. Itas Trentino: 6 blocks, 9 ace, 21 serve errors, 6 action errors, 51% in attack, 39% (20%) in reception. Mvp Zaytsev.
Trentino Volley Srl
Press Office