Trento, 31 March 2020
Giannelli at RAI Sport: "The role of setter is complicated, it takes a bit of madness..."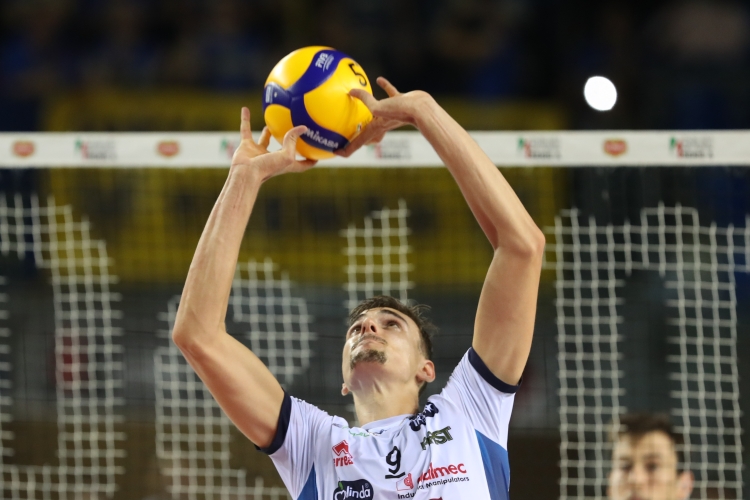 The captain of Trentino Volley Simone Giannelli was interviewed this morning by Maurizio Colantoni for the social channels of RAI Sport. Here are the most significant passages.
CORONAVIRUS EMERGENCY. "This virus is changing the way we live and think. When all of it will be over we will find a different world, but right now it is important to follow the guidelines and stay at home. I hope it can be resumed as soon as possible but right now the priority is everyone's health".
MY DAY AT HOME. "I've been at home in Trento for twenty days and I think I am lucky because unlike my other team-mates I'm not alone. There is my girlfriend with me: we spend time cooking and studying. I often call my grandmother to learn better her historical recipes, while for the University I am preparing a difficult and important exam about Physiology and Anatomy. I am enrolled in the first year of Nutrition Science course, but I know I will finish it later than usual because being a professional player fills my days. Then every day at 4.00 p.m. we have a video call conference with our team-mates and we do the free-body exercises. The first thing I will do when we can go out? Go to Bolzano to visit my family".
SCUDETTO. "I was lucky enough to win two of them already because I also count the one obtained by following from the bench game 5 of the 2013 finals, won by Trento against Piacenza with Jack Sintini on the court. I'm 23 years old, I still have to grow a lot but I'm already grateful for the emotions I experienced as well as the victory of the Italian league title in 2015 in Modena. My goal is to improve and win more and more".
SETTER. "The role of setter is a rather complicated one because you always have to think, reason on every occasion and find the best solution, while sometimes you might just want to attack by pushing hard like the others do. It also takes a bit of madness to manage the team's way of playing and always have everything under control. My favourite was always the American Lloy Ball, but I was told that Blangè was also something extraordinary in the role; I looked for some videos to actually appreciate his greatness because when he played I was very young. I want to mention the Brazilians Ricardinho and Bruno as well".
FEDERER. "He's always been my idol, but besides being a wonder of style, talent and elegance he's an example for what he did even off the court. It's one of the missions of us athletes: being able to give a positive image also in terms of behaviour and from this point of view Roger is an absolute champion".
Trentino Volley Srl
Press Office