Trento, 13 October 2020
Alessandro Michieletto: "I'm tired of watching the games on TV, I want to come back soon"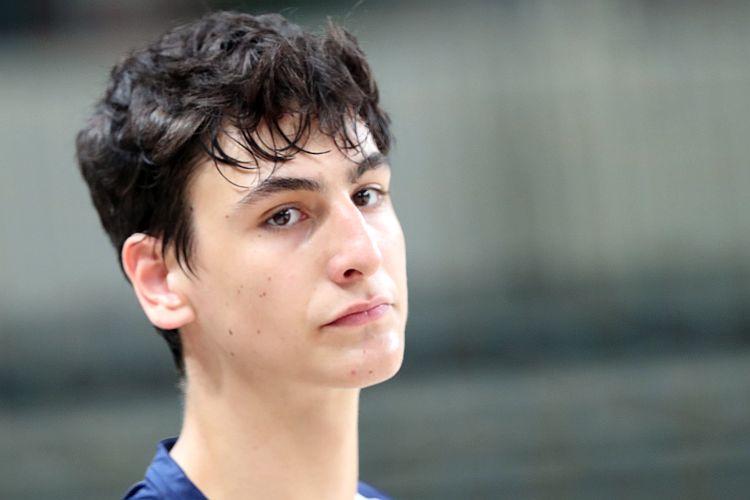 The weekly episode of "RTTR Volley", the magazine that RTTR dedicates to Trentino Volley every Monday, allowed the viewers of the giallo-blù TV partner to see and listen to Alessandro Michieletto. Connected via Skype from his home in Castiglione delle Stiviere (in the province of Mantua), where he is observing quarantine after having tested positive for Coronavirus just a week ago, the giallo-blù spiker told about his particular period of reclusion, answering the questions of the presenter Sara Ravanelli who had her father Riccardo as a guest in the studio.
"I have been home in quarantine for a week without any particular symptoms; I only had a little fever during the first few days after returning to Italy but now I'm fine - underlined the 18-year-old Trentino spiker - . I look forward to October 16, the day when I will do the first swab, in the hope that it will be negative so that I can then undergo another test the next day immediately and be able to return to the gym later. I took advantage of this "cloistered" period to rest a bit, at least until last Wednesday, then I gradually started doing something from a physical point of view. I dedicate one hour a day to those exercises we did at home already during the lockdown, following a specific program that the trainer Barbieri drew up for me. I want to be ready for when I'll be able to come back".
"During the quarantine, I thought about the silver medal won at the Junior European Championship recently played in the Czech Republic - continued Alessandro - . It was a shame not to win the gold, but in the final we were unable to express ourselves as we had done up to that moment; we suffered on reception also because Russia was able to be very incisive in serving. As a result, our ball-change was less smooth, and having lost two sets at the advantages was definitely hamstringing. In 2021, however, there will be the World Cup and for our grou, it will be an opportunity for redemption and a rematch".
"The European MVP title and the Badiali Award as the best Under 23 of the last A3 Series are recognitions that obviously make me very happy and motivate me, because it means that I'm working well, in the right direction, but at the same time, I can't become overconfident - concluded Michieletto - . My only thought now is to get back to training. I miss my mates; I immediately felt comfortable with them and watching the matches on TV without being able to do anything, as it happened to me in the last seven days, is really difficult. I am happy that with Piacenza our true value has come to the surface again".
Trentino Volley Srl
Press Office