Trento, 19 October 2020
Rossini: "We are a new team that must accept to not be perfect"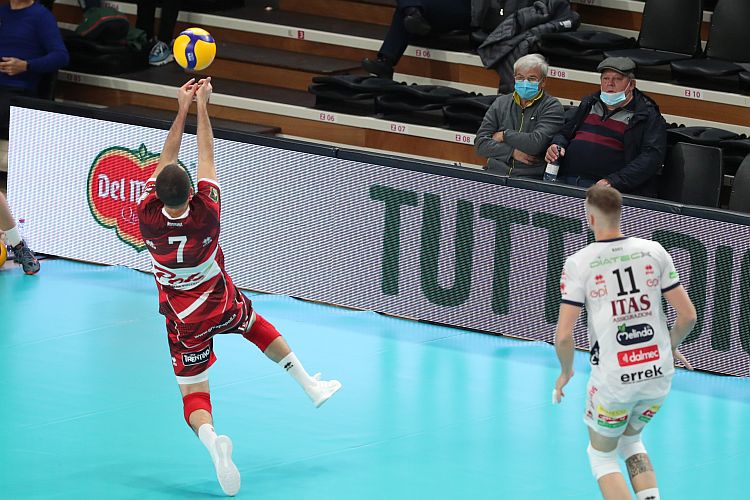 The exciting final of the fourth set, determined by the great turn at the service of Plotnytskyi, has forced Itas Trentino to postpone for at least another nineteen days the appointment with the first home points in SuperLega Credem Banca 2020/21. On Sunday evening, after Verona, also Perugia has won a spectacular and uncertain match at the BLM Group Arena, in which the gialloblù team has lost the tie break due to the excellent comeback of the Umbrians that succeeded in transform a home 18-13 into a 25-27 for them in the fourth set. The next appointment for Itas Trentino in front of their audience is the one of 5 November, when Modena will arrive in the facility of via Fersina.
"It's a displeasure to have lost on this occasion because we have played a great first set and maybe we have thought to win the match or at least to take it at the tie break – acknowledged the libero of Itas Trentino Salvatore Rossini on Sunday evening during "After Hours – la SuperLega di notte", the program on the YouTube channel of Legavolley with Andrea Zorzi and Andre Brogioni as hosts - . During the entire game we have shown good volleyball moments, but we have demonstrated to not have the same self-confidence in the game with Perugia. The regret is that we haven't won at least one of the first two sets finished with the sprint; I'm referring to the second and fourth partial. We are an entirely renewed team compared to the last season, and we still need a path that overlooks our mistakes. We need to learn and accept that we aren't perfect and to keep playing even when things start to look worse. Sir Safety Conad and Lube know already how to do it, and it's no coincidence that lately these two teams always arrive in the final. In the match of Sunday, Perugia was very good to vary the service and to use it during the important moments of the match; at the same time it worked well in reception, knowing that it can't perfectly receive certain powerful Kooy and Nimir services, but still offering a good ball to Travica".
"Lucarelli fits very well in the team, he has a great working ethic and an important attitude, but the Italian championship is not easy for someone who comes from afar – added Rossini, answering a specific question about the match of the Brazilian setter - . He isn't at his best yet, especially in attack, but we know he will improve, and we have full confidence in its improvement skills. He is a great player and will always offer us a greater contribution, it's only a matter of time".
The gialloblù team had a full Monday off and will resume training on Tuesday morning at the BLM Group Arena, starting the training program for the away game on Sunday 25 October in Monza (seventh turn of regular season).
Trentino Volley Srl
Press Office