Trento, 25 November 2020
SuperLega, character and pride are not enough to stop Vibo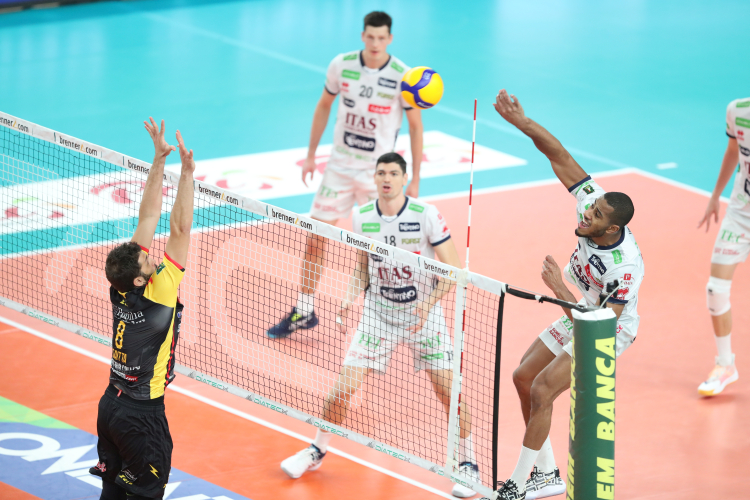 The return to the field, after almost a month of stop due to the many cases of Coronavirus recorded in the team group, does not award Itas Trentino any points for its ranking. In full emergency in the role of setter, it was not enough for the giallo-blù team to bring into the field everything they had to bring the recovery of the ninth round of SuperLega with the Tonno Callipo Calabria Vibo Valentia at least at the tie break. The guests won 1-3 tonight at the BLM Group Arena, forcing the hosts to postpone their first home victory until Sunday (the match against Padua).
The final result seemed too severe for the giallo-blù team which, in an experimental setting with its main spiker in the role of setter (due to the double defection of Giannelli and Sperotto), after the first set of adjustment, was able to fight fiercely to the end. This is demonstrated by the victory of the second set, in which Nimir was able to optimally distribute the game on the entire attack front, but it also illustrates what he did in the third and fourth period, in which Lorenzetti's team only gave in to the final sprint and always in a daring way. In addition to the great performance of the Dutchman, which reinvented himself as a setter after six years, also those of the returning Michieletto and Kooy (15 points each) and Podrascanin (69% in the first half with two blocks), which fought in the role of captain head high all the way.
Below is the scoreboard of the ninth day of the regular season SuperLega Credem Banca 2020/21, played this evening at the BLM Group Arena in Trento.
Itas Trentino-Tonno Callipo Calabria Vibo Valentia 1-3
(18-25, 25-22, 23-25, 23-25)
ITAS TRENTINO: Lisinac 9, Nimir 8, Lucarelli 11, Podrascanin 11, Michieletto 15, Kooy 15, Rossini (L); Pizzini, De Angelis.N.e. Cortesia, Bonatesta, Sosa Sierra. Coach Angelo Lorenzetti.
TONNO CALLIPO CALABRIA: De Falco 15, Cester 6, Saitta 3, Rossard 22, Chinenyeze 9, Drame Neto 14, Rizzo (L);Dirlic. N.e. Chakravorti, Sardanelli, Gargiulo, Corrado, Lyneel, Almeida. Coach Valerio Baldovin.
REFEREES: Rapisarda from Udine and Curto from Gorizia.
SET DURATION: 21', 27', 29', 28'; tot 1h and 45'.
NOTES: game played behind closed doors. Itas Trentino: 16 blocks, 5 aces, 20 serving errors, 6 action errors, 47% in attack, 58% (36%) in reception. Callipo Calabria tuna: 16 blocks, 6 aces, 13 serving errors, 8 action errors, 47% in attack, 31% (17%) in reception. MVP Rossard.
Trentino Volley Srl
Press Office