Trento, 26 November 2020
After the match Itas Trentino-Tonno Callipo 1-3: statistics, notes and curiosities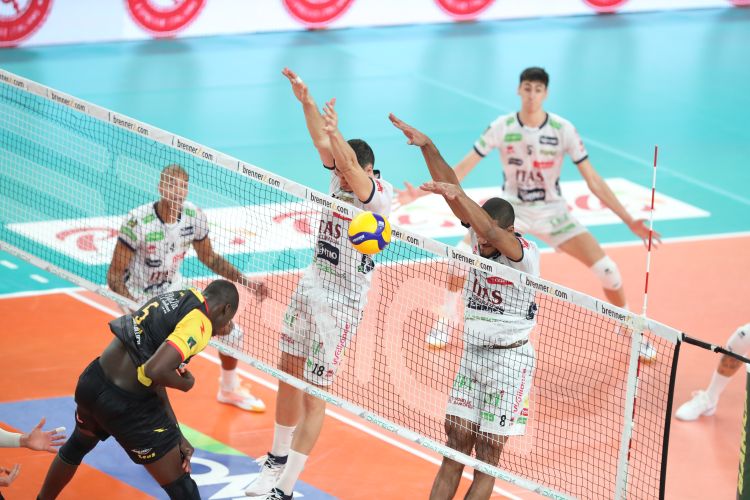 Here are some statistic curiosities related to the match played on Wednesday between Itas Trentino and Tonno Callipo Calabria Vibo Valentia 1-3, the match corresponded to 9th round of SuperLega Credem Banca 2020/21-that had been postponed previously.
WHAT A BLOCK Despite the defeat, Itas Trentino has many reasons to look confidently at the future. One of the reason is the ability of the players at doing blocks, indeed during last match they directly scored 16 points thanks to this fundamental, particularly good were Lucarelli and Lisinac (4 points each), but also Michieletto, finally back on field (3) and, as always, Nimir e Podrascanin (2). This is the best data of this season and the same results of the match on 22nd February 2020 (the semi-final of Italian Cup against Civitanova, that time Itas lost after having played one match more in comparison to this one).
200 TIMES LORENZETTI After having had to postpone the match many times, the one on Wednesday night was number 200 for Lorenzetti as coach of Trentino Volley. He accomplished this important goal after having trained the team for 4 years and a half, thanks to his guide it won 69% of matches: 138 victories and 62 defeats. He's on second place in society's ranking of presences, the first place is occupied by Radostin Stoytchev (389), on third place Bruno Bagnoli (88) followed by Radames Lattari (64).
GIANNELLI ABSENT AFTER 295 CONSECUTIVE MATCHES Due to Coronavirus, Capitan Giannelli was absent for the first time after 295 consecutive official matches wearing Trentino Volley's skirt. Since his arrival during season 2014/15 he has always been present at every single match collecting such an high number of matches played. Everyone's hope is that he can begin playing again right on Sunday (match on home filed against Padova) and maybe play (at least) 285 more matches.
GOOD PLAYERS FROM TEAM UNDER 23 During the second set, Filippo Pizzini was one field once again. The young player from Rovereto, born in 1999 is the main setter of UniTrento Volley team in Serie A3 and he had already played in Serie A during the season 2018/19, in occasion of a match of 2019 CEV Cup. He played once again thanks to a rule that allows an unlimited number of switches between two players from team Under 23. During last match Pizzini and Alessandro Michieletto switched on field, letting Nimir to play in attack during some critical moments of the match.
100 TIMES LUCARELLI Thanks to the 11 points Ricardo Lucarelli scored during the match, he got the goal of 100 points scored wearing Trentino Volley's skirt. The Brazilian player achieved this goal after having played 13 matches and now he's getting ready for the match against Kioene Padova on Sunday (at 7 pm, at BLM Group Arena) to increase his points. "After having had to stop for long, every match we play is very important – explained today Lucarelli - . The match against Padova will be even more important: indeed we need to win to improve our place in the ranking and, at the same time, to get ready for the 3 days of Champions League that we will play at BLM Group Arena between 1st and 3rd December. A positive result could give us the right support we need to do our best in the European competition".
Trentino Volley Srl
Press Office