Trento, 08 January 2021
Nimir Abdel-Aziz MVP of the month of December 2020 of SuperLega Credem Banca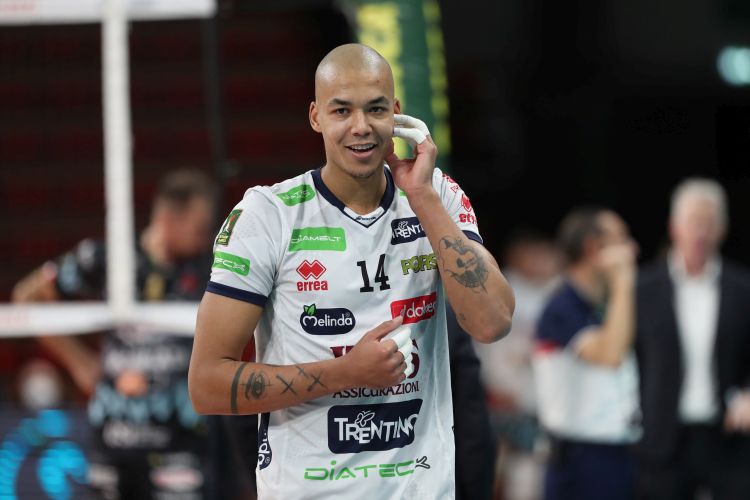 The extraordinary first season of Nimir Abdel-Aziz with the Trentino Volley jersey continues to reserve performances, records and pages to remember but now also official recognition. In fact, the Dutch opposite spiker won the Credem Banca MVP as the best player of the month of December 2020 of SuperLega Credem Banca, thanks to the five nominations won during the six matches played in the previous thirty-one days. Nimir was in fact the "man of the match" in the matches of Sunday 6 in Verona, Monday 14 with Civitanova, Sunday 20 with Piacenza, Sunday 27 in Modena and Wednesday 30 in Ravenna; only against Modena (Wednesday 9) did he not secure the prize (in that case it went to Lucarelli). Statistics show that in December in the SuperLega he scored 125 points (average of 20.8 per game), with 6 blocks, 21 aces and 51.3% in attack (98 out of 121).
"Objectively, more than individual awards, I am interested in the victories obtained with the team - underlined Nimir Abdel-Aziz - . I am therefore very happy especially for the streak of eleven consecutive successes that we are pursuing; we are training these days to make sure that it can continue ".
Nimir Abdel-Aziz will collect the prize at the BLM Group Arena on Sunday 10 January, before the kick-off of the match between Itas Trentino and Vero Volley Monza, which will be broadcast live on RAI Sport +.
Trentino Volley Srl
Press Office