Trento, 10 January 2021
SuperLega, Itas Trentino suffers but doesn't stop: Monza surrenders at the tie break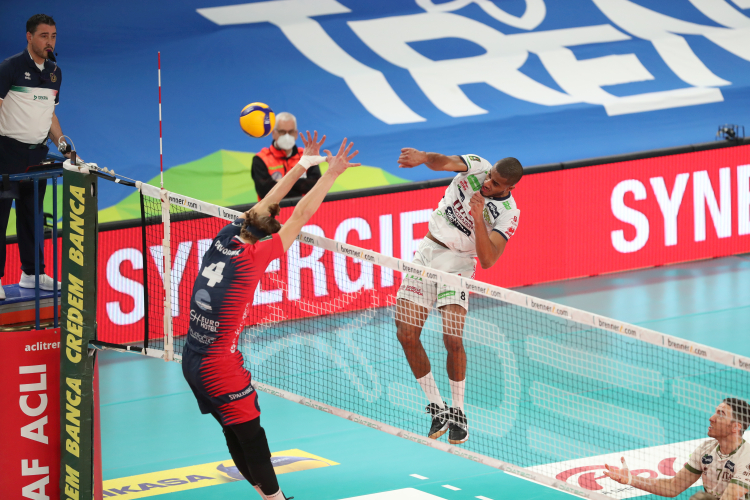 The confrontation between the formations most in shape at the moment in regular season SuperLega Credem Banca 2020/21 at the end rewards Itas Trentino. In today match, played tonight at the BLM Group Arena and valid for the eighteenth round, the gialloblù team imposed the stop to Vero Volley Monza as well, arrived in Trento with seven consecutive wins in the championship and without setbacks in the entire second round.
The hosts succeeded in interrupting the positive streak of Monza and lengthening theirs, now with twelve consecutive wins (nine of those in the championship), thanks to a suffered but at the end deserved 3-2. The two points conquered tonight strengthen the third place in the ranking obtained on Wednesday evening; at the loss of Vibo on Saturday evening in Piacenza, the gialloblù responded with a positive but not continuous performance, especially during the important moments of the game. Without Kooy (again on stop this morning due to a muscle resentment that will be evaluated in the next days), Giannelli and teammates showed everything they had, doing great in the first and third set (clearly won), suffering in the second and fourth partial (where the gialloblù reception wavers), but recovering in the tie break. At the top the performance of Ricardo Lucarelli: 21 personal points with 63% in attack and two blocks, MVP of the match. For the win, they were also important 24 winning points of Nimir (starting not so well, but then recovering during the second part of the game), 5 blocks of Podrascanin and three aces of Michieletto who, for once, struggled both in first and second line.
Here is the report of the eighteenth day of regular season SuperLega Credem Banca 2020/21, played tonight at the BLM Group Arena in Trento.
Itas Trentino-Vero Volley Monza 3-2
(25-16, 20-25, 25-17, 20-25, 15-13)
ITAS TRENTINO: Giannelli 4, Lucarelli 21, Lisinac 7, Nimir 24, Michieletto 7, Podrascanin 12, Rossini (L); Did not play: Argenta, Sosa Sierra, Sperotto. Did not play: Cortesia, Bonatesta and De Angelis. Coach. Angelo Lorenzetti.
VERO VOLLEY: Dzavoronok 18, Beretta 5, Davyskiba 13, Lanza 9, Holt 4, Orduna 1, Federici (L); Ramirez Pita 2, Galassi 4. Did not play: Magliano, Brunetti, Giani. Coach. Massimo Eccheli.
REFEREES: Canessa from Bari and Pozzato from Bolzano.
SET DURATION: 21', 27', 24', 29', 19'; tot 2h.
NOTES: match played behind closed doors. Itas Trentino: 10 blocks, 9 aces, 29 service errors, 9 action errors, 47% in attack, 51% (29%) in reception. Vero Volley: 8 blocks, 4 aces, 17 service errors, 8 action errors, 47% in attack, 28% (9%) in reception. MVP Lucarelli.
Trentino Volley Srl
Press Office