Trento, 13 January 2021
SuperLega, on Wednesday on field at BLM Group Arena for last recuperation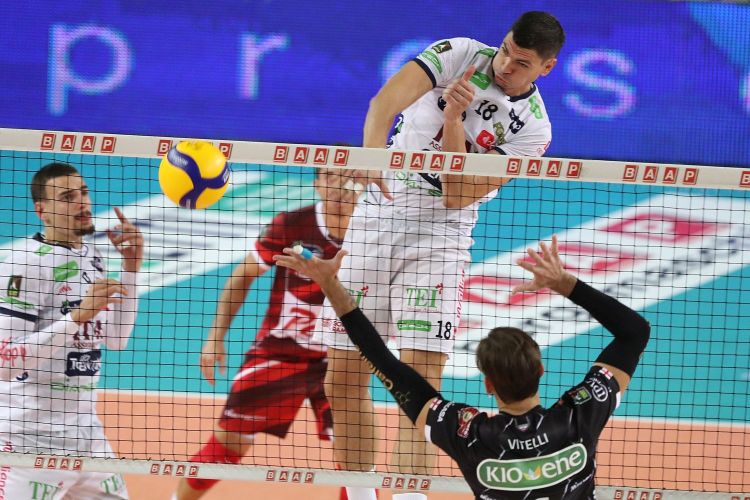 Wednesday night, Itas Trentino will play against Kioene Padova at BLM Group Arena, for the recuperation of 12th day of SuperLega Credem Banca 2020/21; originally, the match was scheduled for 29th November 2020. Starting whistle scheduled for 7 pm, live on Radio Dolomiti and live streaming on Lega Volley Channel www.elevensports.it (paying service)
HERE ITAS TRENTINO playing also this match, gialloblù team will have recuperated all the matches scheduled for the Championship that had been postponed due to Covid 19. Another nice occasion to improve once again its position on the ranking and ensure 3rd place right after Perugia and Civitanova, but Padova has to be defeated!
"Last Sunday, the match won at the tie break showed that we still have to improve some aspects if we want to play at such an high level - declared coach Angelo Lorenzetti while presenting the match - So, I wish the players will accept both the positive and the negative indications I gave them after these first matches of 2021. The match against Padova gives us an important occasion to test if we've learned from our mistakes and, looking at the ranking, to try to gain some more precious points. For this reason, we'll have to be on field with the right feeling and try to find a good pace as Kione will put us in difficulty, as it has already happened during the first round."
This is match will be the first one of the week that will be played on home field, Sunday afternoon Itas will play against Top Volley Cisterna (anticipation of round 19th); for both matches the young hitter spiker Stefano Bonatesta, born in 2002, will sit on the bleachers as substitute of Dick Kooy, still home due to a muscular problem he's having since Sunday morning.
In this occasion, Trentino Volley will try to win for 610th time in its story (in 872 official matches), and it could be victory number 319 on home field, where the team was last defeated on 25th November (1-3 against Vibo). In regular season, Club gialloblù won 201 out of 261 matches played on home field.
THE OPPONENTS On Wednesday Kione will play for the second time in this 2021, indeed since the beginning of the new year, the team guided by Cuttini only played on Saturday 2nd January (defeat 0-3 on home field against Civitanova), and they rest during the weekend, given that the match against Modena had been anticipated in November. Last time this team won was on 6th December (3-1), then they have been defeated for 5 consecutive times; last 30th December the team was very close to the victory but it was eventually defeated at the tie break. Despite being on second last place on the ranking, with only 1 less point than Ravenna, Padova has shown good capacities at serve (sixth place among all the teams for ace realized, on average 1,37 per set) and in reception too (second team), above all thanks to such a good player as the libero Danani (best of the tournament). Among the players, very good also Stern (5th bomber of the Championship with 296 personal points), the middle blocker Vitelli 83rd middle blocker on statistics and seventh on the ranking for blocks) and the young hitter spiker Mattia Bottolo, protagonist of summer 2016, during the week of Trentino Volley BIG Camp (the summer camp yearly organized by Itas, between June and August).
PREVIOUS MATCHES On Wednesday 37th official match between these two teams, Itas Trentino can count on 30 victory collected during the matches, but the opponents won 2 of last 5 matches played, among them also latest match: on 20th November 2019 at BLM Group Arena, 2-3 and the sets 25-20, 20-25, 19-25, 25-23, 19-21. Among the 18 victories played in Trento, Padova only won twice: The other time was on 7th November 2004, 1-3 with former mvp Meszaros. Itas won first round against this team, at Kioene Arena, last 27th September 2020- victory 3-0 and the sets 27-25, 25-15, 26-24 with Nimir Abdel-Aziz mvp (22 points among which 9 ace).
REFEREES the match will be directed by Veronica Mioara Papadopol(from Mantova, in Serie A since 2018) and Giuseppe Curto (from Gorizia, in Serie A since 2013), for Papadopol this will be match number 3, for Curto number 8 in SuperLega during this season. For Veronica Mioara Papadopol, this will be first match with Itas Trentino, while last match Curto directed with gialloblù was on 25th November (defeat on home field against Vibo, 1-3, last defeat before 12 consecutive victories).
RADIO, INTERNET E TV The match will be told live by Radio Dolomiti starting from 7pm, the speaker will be Stefano Piffer. Radio frequencies can be found on the website www.radiodolomiti.com, there it will also be possible to listen to the chronicle live.
It will be possible to watch the match streaming on "Lega Volley Channel" www.elevensports.it - paid service.
On Tv catch-up on Friday 15th January at 9.30pm on RTTR, tv partner of ITAS TRENTINO.
On the net is possible to follow the news of the match point-to point (www.legavolley.it) and on www.trentinovolley.it and on the Social Network.
NO SPECTATORS ALLOWED TO BLM GROUP ARENA According to the new measures of the atest DPCM, no spectators will be allowed to the arena, only personnel or staff will have the possibility to enter.
Trentino Volley Srl
Press Office