Trento, 14 January 2021
Thirteen consecutive victories: block and service among the secrets of the giallo-blù game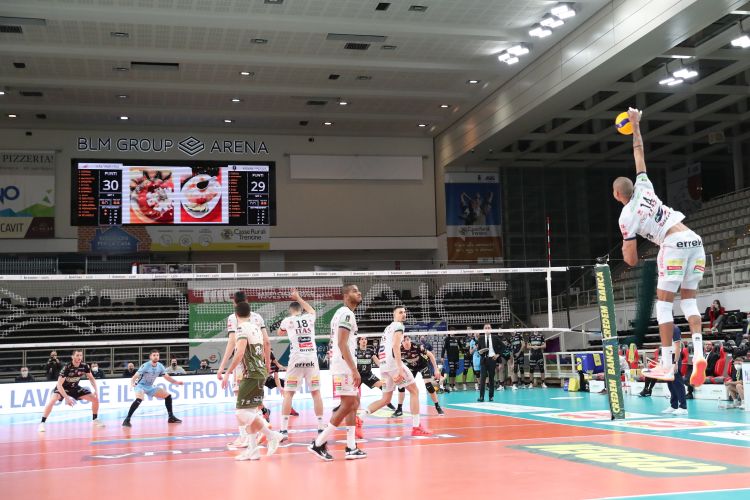 The 3-0 win over Padova on Wednesday night at the BLM Group Arena, in the recovery of the twelfth round of SuperLega, further extended Itas Trentino's streak of consecutive successes in the central part of the 2020/21 season. From 1 December 2020 (3-2 home with Novosibirsk) the giallo-blù team has never lost a match, going from seventh to third place in the regular season standings.
In forty-four days, thirteen affirmations have arrived in a row (ten in the league, three in the Champions League), thanks to thirty-nine sets won and just ten given to the opponents. Among the many secrets of the extraordinary rise of Giannelli and his teammates, there is certainly the great performance at block and service, fundamentals on which the break point phase is historically based. In the last thirteen games played, Lorenzetti's team has in fact collected a total of 120 blocks (average of 2.4 per set) and 106 aces (2.1 partial); exceptional numbers (higher than those that Trento can boast in the entire regular season), in which Nimir (30 personal aces) and Podascanin (31 winning blocks) had a significant weight. The Dutch opponent is also the top scorer in the row, having collected 218 points (averaging over 16 points per match).
It should also be emphasized that the path between the friendly walls was very peremptory and convincing: among the thirteen victories achieved, almost half (6) came in fact thanks to 3-0 home matches.
Itas Trentino will try to further extend their streak as early as Saturday 16 January in the anticipation of the nineteenth round of the regular season which, starting at 5 pm, again at the BLM Group Arena, against Top Volley Cisterna Latina. To better prepare for this important event (the fifth of 2021), the team returned to training already this afternoon for a session in the weight room (for those who played against Padova) and on the central court (for everyone else).
Trentino Volley Srl
Press Office