Trento, 16 January 2021
SuperLega, Itas Trentino is unstoppable: Cisterna surrenders at 3-1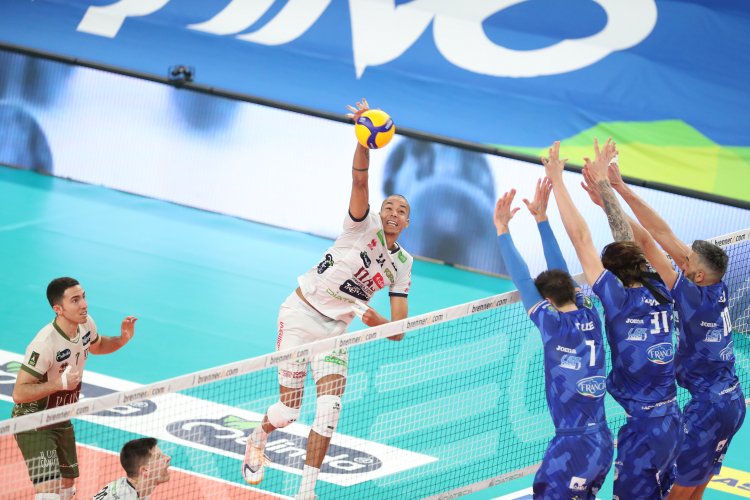 Itas Trentino continues its run in SuperLega Credem Banca 2020/21, overcoming the hurdle of Top Volley Cisterna. This evening at the BLM Group Arena, the gialloblù won by 3-1 in the preview of the nineteenth round of regular season, lengthening to fourteen the streak of consecutive wins that lasts since the first December.
To overcome the tail-end of the championship, Angelo Lorenzetti's team needed to show character and the game of the best days; particularly, in the first two and a half sets, the battle between the two formations was quick and of high-quality. The gialloblù were good to make a comeback from 0-1, to not lose the clarity of mind in the final of the second partial (ended at the advantages like the first), and to close the gap thanks to the quality of the attack that closed with 63% of the team and suffered only 3 blocks.
To inspire the comeback and the full success, also very useful in terms of racing for the third place, was as usual Nimir (MVP with 25 points, 68% in attack, three blocks, and three aces) but also the two teammates Lucarelli (4 blocks) and Michieletto (2 aces) stood out, scoring thirteen points each. More in general, it was the service and the great work in defence, especially in the second half of the game, to direct the result in favour of the hosts, which faced a Top Volley anything but resigned, as demonstrated the 17 personal points and 67% in attack of the opposite spiker Sabbi.
Here is the report of the postponed match of the nineteenth day of regular season SuperLega Credem Banca 2020/21, played this evening at the BLM Group Arena in Trento.
Itas Trentino-Top Volley Cisterna 3-1
(24-26, 26-24, 25-20, 25-18)
ITAS TRENTINO: Podrascanin 8, Giannelli 4, Lucarelli 13, Lisinac 10, Nimir 25, Michieletto 13, Rossini (L); Sperotto, Sosa Sierra 2, Argenta. Did not play: Cortesia, Bonatesta, De Angelis. Coach. Angelo Lorenzetti.
TOP VOLLEY: Tillie 11, Szwarc 13, Sabbi 17, Randazzo 11, Krick 3, Sottile 3, Cavaccini (L); Cavuto 1, Onwuelo. Did not play: Rossato, Rossi, Rondoni. Coach. Slobodan Kovac.
REFEREES: Boris from Vigevano (Pavia) and Rossi from Ventimiglia (Imperia).
SET DURATION: 27', 30', 25', 25'; tot 1h and 47'.
NOTES: match played behind closed doors. Itas Trentino: 11 blocks, 10 aces, 22 service errors, 6 action errors, 63% in attack, 60% (35%) in reception. Top Volley: 3 blocks, 8 aces, 21 service errors, 2 action errors, 49% in attack, 38% (21%) in reception. MVP Nimir.
Trentino Volley Srl
Press Office