Trento, 26 January 2021
On Wednesday the quarterfinal of Coppa Italia 2021, at the BLM Group Arena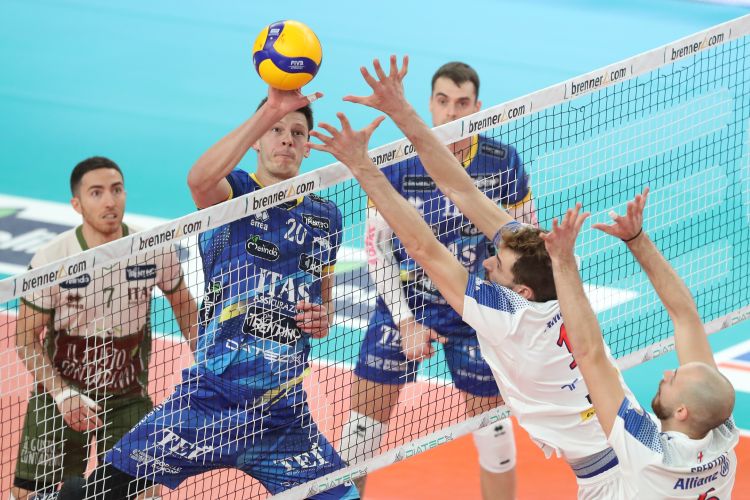 On Wednesday 27th January the quarterfinal match of the 43rd edition of Del Monte® Coppa Italia; Itas Trentino will debut at the BLM Group Arena playing against Allianz Milano: a match of straight single-elimination. The winner will assure itself the qualification to the Final Four, scheduled for next weekend (30-31 January) in Bologna. Starting whistle scheduled for 7 pm, live on Radio Dolomiti and live streaming on Lega Volley Channel www.elevensports.it (paying service).
HERE ITAS TRENTINO Gialloblù faces its first match without qualification of 2021, right after a particularly favourable moment. Thanks to the 15th consecutive victory, achieved last Sunday in Vibo, the team has assured itself 3rd place on the ranking of SuperLega, so now Angelo Lorenzetti's team can only focus on Del Monte® Coppa Italia 2021. Moreover, after a one-year-long break, gialloblù will play the match that assigns a place in the Final Four on their home field, the opponent team is the same of last time.
"Milano has just achieved two victories in championship, the team uses to keep changing the line-up, above all in place 4- given that they have many choices. It's hard to imagine the line-up of next match, but we know that they are very strong – explained Trentino Volley's coach while presenting the match - . Right for this reason, in sight of the match, we have to work a lot about our attitude and the play we'll lead, then during the match we'll make up a strategy to apply. We really care about Coppa Italia and we don't know how will the team play- what has been done until now will reset. This is very interesting, but at the same time also dangerous because we can't do any mistakes, so it's will be more important than ever show the right attitude".
Itas Trentino will count on evry player: all 13 players are ready, also the hitter spiker Dick Kooy, who since last weekend has being training with the team. Among the players, the player who most played in Coppa Italia is Marko Podrascanin, he will play for 13th time, he has already achieved 3 victories (in 2009 with Lube, in 2028 and 2019 with Perugia). Two players will debut for the first time: Ricardo Lucarelli e Lorenzo Sperotto.
LISINAC WILL PLAY THE 100TH MATCH WITH GIALLOBLU' SKIRT right in this occasion Srecko Lisinac will achieve number 100 of the matches e has played with the team. He's the second player who achieved such an high number (Giannelli got 299 matches on Wednesday). Out of 99 matches played up to now (45 in season 2018/19- Itas won the Championship per Club and the CEV Cup-, 30 in season 2019/20 and 24 in this season), Lisinac scored 939 points, on average 9,4 per match.
TRENTINO VOLLEY'S STORY IN COPPA ITALIA On Wednesday, Itas will play for 19th time at the quarterfinal of Coppa Italia, in 21 seasons. Only two times the team did not play in this competition- during debut season in A1 (2000/01 defeated during preliminary phase by Cuneo) and last season with Lattari (2006/07). 13 times the team has won the quartefinals and achieved the Final Four; last time the team defeated Milano 3-0. 3 times the team won the competition: On 31st January 2010 in Montecatini Terme, thanks to the victory 3-1 against Cuneo during the final, 19th February 2010 3-2 against Lube at PalaLottomatica in Roma and on 30th December 2012,3-1 against Lube at Forum di Assago. In general, the team played seven times the final match, also considering the matches lost against Cuneo (2010/11), Modena (2014/15 and 2015/16) and Civitanova (2016/17). Five other times, the team was defeated at the quarterfinal: in 2002/03 by Macerata, in 2003/04 by Cuneo, in 2004/05, in 2007/08 and in 2008/09 by Treviso. In total, the team played 41 matches in this competition: 23 times it won, 18 times it was defeated (last one was in semifinal in Bologna, against Lube, on 22nd February 2020).
THE OPPONENT TEAM Allianz Milano will be very different in comparison to the team that last played on 6th January. The recover of the French opposite Patry (who had to rest for 3 weeks due to an injury) and the possibility to count on Urnaut (he signed the membership in December, so he could not play during last match) will offer good substitutes to the coach Roberto Piazza. The team has just won two consecutive times in Championship (both on its home field, against Modena and Padova), it helped them improve on the ranking; now they're at place 8, but they can improve it during next week. They only have 2 points less than Modena and they have also played one match less in comparison to this team. Allianz Milano qualified for the quartefinals achieving second place in group B at round of 16 and classified as 6th team of first round; the team will take part for 4th time. Two other times was defeated at quartefinals (in 2019 by Modena and in 2020 by Trento), once at round of 16 (in 2018, by Verona).
DEL MONTE® COPPA ITALIA 2021 On Wednesday will be played the quarterfinal match, the teams have been chosen according to the ranking of first round, considering the eight matches that have gained the access to it. Civitanova, Perugia, Modena and Trento are the first 4 on the ranking of regular season 2019/20; Monza, Milano, Padova and Ravenna thanks to the first 2 places during round of 16 played in September 2020. In addition to Itas Trentino-Allianz Milano, at 5 oom is also scheduled the match Cucine Lube Civitanova-Kioene Padova, at 6 pm Sir Safety Conad Perugia-Consar Ravenna and at 8.30 pm Leo Shoes Modena-Vero Volley Monza. Final Four is scheduled for weekend on 30 and 31st January at Unipol Arena in Bologna: on Saturday 30th the semifinal (the winner team of the final of 8 at BLM Group Arena will play against the winner between Perugia and Ravenna). Sunday 31st Janauray the final, at 6 pm.
PREVIOUS MATCHES For the second time ever Trentino Volley and Powervolley Milano will play in Coppa Italia; last match was right one year ago (23rd january 2020); in that occasion gialloblù won 3-0 at PalaLido (and the sets 23-25, 19-25, 19-25). In general the team played 14 official matches. 13-1 victories for Itas, the only victory achived bu the other team was during a match played in Trento: 15Th October 2017, 2-3 Abdel-Aziz mvp (28 points)- he used to play with Milano. Latest match was played 3 weeks ago: On 6th January, 3-0 for Itas (and the sets 5-18, 25-17, 25-15).
THE REFEREES the match will be directed by Umberto Zanussi (from Treviso, in Serie A since 2006) and Andrea Puecher ( from Padova- role-referee since 2003 and international since 2013). For Zanussi this will be 13th season and he had also directed the match Itas Trentino-Gas Sales Bluenergy Piacenza 3-0 last 20th December; for Puecher this is 11th match of the season 2020/21, second one with Trento- las was on 27th december, victory 3-1 in Modena.
RADIO, TV ED INTERNET The match will be broadcast live by Radio Dolomiti. Radio frequencies can be found on the website www.radiodolomiti.com, there it will also be possible to listen to the chronicle live.
It will be possible to watch the match streaming on "Lega Volley Channel" www.elevensports.it - paid service.
On Tv catch-up on Friday 29th January at 9.30pm on RTTR, tv partner of ITAS TRENTINO.
On the net is possible to follow the news of the match point-to point (www.legavolley.it) and on www.trentinovolley.it and on the Social Network www.trentinovolley.it/facebook, www.trentinovolley.it/instagram e www.trentinovolley.it/twitter).
NO SPECTATORS ALLOWED TO BLM GROUP ARENA According to the new measures of the atest DPCM, no spectators will be allowed to the arena, only personnel or staff will have the possibility to enter.
Trentino Volley Srl
Press Office