Trento, 04 March 2021
Trentino Itas-Berlin Recycling 3-0, the match report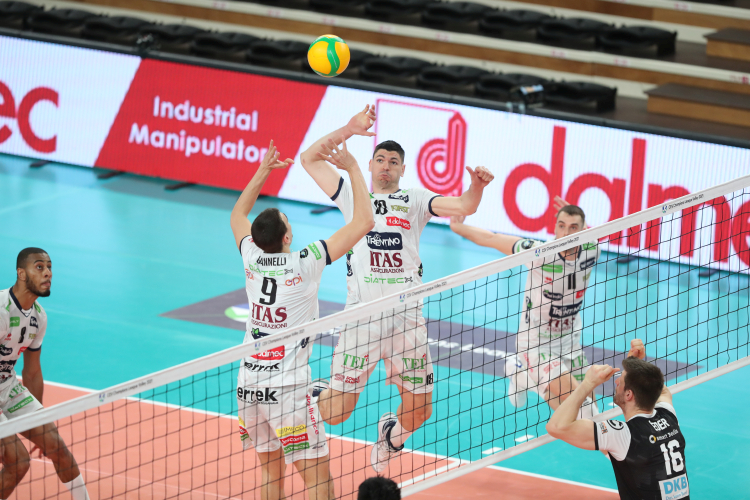 The match report. Trentino Itas presents itself after a month of absence on the field of the BLM Group Arena for an official match, putting Giannelli as setter, Nimir Abdel-Aziz as opposite spiker, Lucarelli and Kooy as spikers, Lisinac and Podrascanin as middle blockers, Rossini libero. Berlin Recycling Volleys responds with Grankin as setter, Patch as opposite spiker, Carle and Tuia as spikers, Eder and Brehme as middle blockers, Zenger libero. The start is equilibrated and has many ball-changes, because the only break points scored until 8-8 are a block of Lucarelli on Patch and a counterattack of Brehme. Then Nimir (ace and attack) guarantees the +2 (11-9), which lasts only for a few minutes, because Tuia at service and Carle at the net overturn the situation (11-12), but Lisinac, with the same weapons (first time and another scoring service), overturns again the tendence (16-15). Berlin has great energies and with Grankin makes an advantage, even by two points (17-19). After the time out of Lorenzetti, Trentino Itas restarts with a mistake of Patch and with the scoring balls of Nimir (21-20); it's the Dutch opposite spiker who makes another advantage (23-21), that protects with another two winning points (24-21 and 25-22).
In the second set, the match starts with the point-by-point fight (3-3, 6-6), before Berlin tries to raise the rhythm with blocking and service (8-11, time out of Lorenzetti). The gialloblù team attacks with Lucarelli, and then with Nimir finds the tie (13-13). The Germans try the maximum effort to stay behind the opponent (18-19), but also in this case Nimir scores with service (slash of Podrascanin for 21-20) and then with attack (25-21). In this way, Trentino Itas is already in the semifinal!
Without the qualification as a prize, the two coaches decide to use many of the players they have; Michieletto asserts his authority immediately, who make an advantage for the hosts with three consecutive aces (5-1). After, Sosa Sierra and Lisinac (the only regular who remains on the field and scores for 11-7) draw attention as well. Berlin left quickly room for the opponents, even more focused and unstoppable for 3-0 (17-10, 21-12), with Cortesia very present at blocking. The set is won by 25-14.
Trentino Volley Srl
Press Office