Trento, 08 April 2021
Play Off, some notes and curiosities about gialloblù after match 4 of semifinal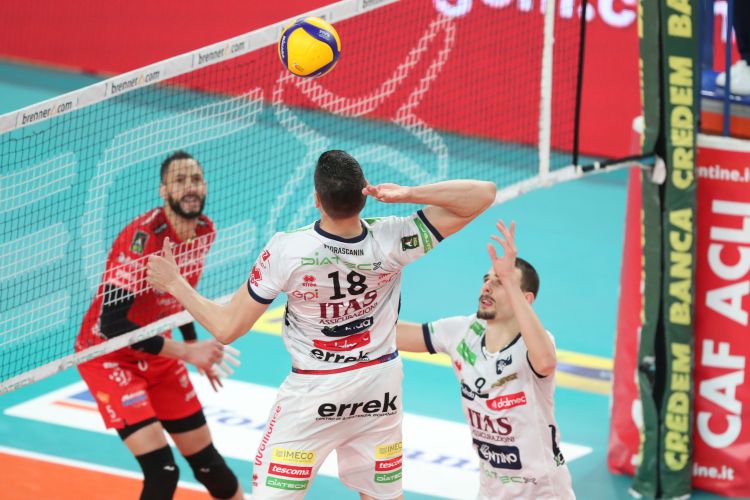 Here's some notes and curiosities registered after 4th match of semifinal of Play Off SuperLega Credem Banca 2021, won 3-0 by Cucine Lube Civitanova at BLM Group Arena, on Wednesday.
EQUAL RESULT. 18th participation of Trentino Volley to Play Off Scudetto has concluded after 6 matches and a equal result: 3 victories (2 against Piacenza and one against Civitanova) and 3 defeats. Last time Itas played so few matches was during season 2013/14 (as it only played twice). For the 5th time, Itas ended its participation in Semifinal; as it had already happened in 2006, 2016, 2018 and 2019 and for the second (consecutive) time against Cucine Lube. Only in 2006 (defeat 1-3 against Treviso) Itas did not manage to win nor a match on home field in a serie "best of 5 matches". According to the official statistics, gialloblù played 124 official matches (73 victories and 51 defeats) during post seson phase.
NIMIR BEST SCORER OF THE SEMIFINAL. Scoring 66 points in 4 matches, Nimir Abdel-Aziz is the best scorer of Itas Trentino after these 4 matches played against Cucine Lube Civitanova during last 10 days, second best is Lucarelli (54). The Dutch opposite was the one who scored most at serve (15 ace), while the best one at block was Srecko Lisinac (8 blocks). Moreover, thanks to the 11 points scored during match 4, Nimir achieved 820 personal points scored for Trentino Volley during season 2020/21, overcoming Juantorena (816 in 2009/10)on the ranking and getting closer and closer to Kaziyski (852 in 2009/10) – the only two other players who managed to score more than 800 points in just one season.
FROM LUBE... TO LUBE. On wednesday night, Itas concluded its seasonal path at BLM Group Arena in Trento - before the end of the season, it will only play one more match. On 1st may, in Verona Itas will play the Final match of Champions League. It's curios to notice that the first and the last opponent of the season has been Cucine Lube Civitanova - the team was defeated 3-2 on 13th September 2020 (first round of semifinal of Coppa Italia) and won 0-3 the match on 7th April 2021. If considering the matches played on home field, this season they were 23: 18 victories and 5 defeats (2 against Lube, 1 against Verona, Perugia and Vibo). The result occurred most times has been the victory 3-0 (11 times) and the one that never arrived is the defeat at tie break. Important to remember also 15 consecutive victories Itas managed to collect between 25th November 2020 and 1st April 2021.
AN EARLY END. Concluding the participation early on 1st April is almost strange for Trentino Volley; before, it has only happened twice (out of 20 season played). That's to say in 2000/01 as it ended on 20th March (without playing the Play Off) and in 2013/14 on 30th March (as it was eliminated after match 2 of the quarter finals).
FIRST MAY ON FIELD. Next and last appointment of season 2020/21 for Trentino Volley is scheduled for 1st May: final match of 2021 CEV Champions League against the Polish team Kedzierzyn-Kozle, at AGSM Forum in Verona 8at 8.30 pm) It will be 6th match ever played on 1st may; previous matches were In 2006 Trento-Treviso 2-3, in 2008 Trento-Piacenza 3-0, in 2010 Trento-Bled 3-1, in 2011 Trento-Modena 3-0 and in 2015 Trento-Perugia 3-2.
Trentino Volley Srl
Press Office