Trento, 13 April 2021
Podrascanin: "We would like to play in Verona immediately but we need to be patient"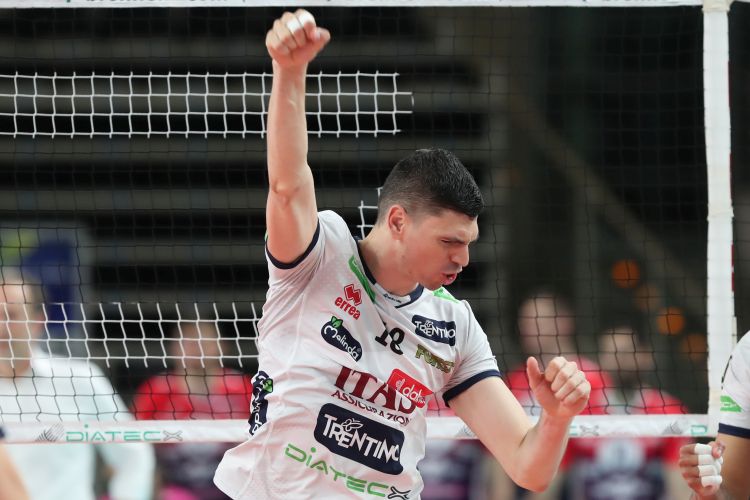 Itas Trentino middle-blocker Marko Podrascanin spoke on Monday evening at the weekly episode of "RTTR Volley", the broadcast that the media partner RTTR dedicates to Trentino Volley every Monday. Here are some of the most interesting passages from the interview conducted by Sara Ravanelli.
PLAY OFF SCUDETTO. "Every day that passes the elimination suffered at the hands of Cucine Lube becomes more and more distant and this certainly helps us to feel better and to look beyond. We had achieved great results in match 1 in Civitanova Marche, but we were aware that our opponents' game would grow during the series and it actually happened. The 3-1 final says it all, we just have to congratulate them because they played at a very high level. The many sets won in the sprint show how Lube had greater incisiveness and experience in the decisive moments. Precisely for this reason I think the Marche team is the real favorite of the Scudetto Final, especially for how they have been playing lately".
FIELD FACTOR. "In this season, it actually didn't matter too much, not at all I would say, especially due to the lack of public in the stands. Our path proves it, given that we have won many important away games and lost a few too many games at the BLM Group Arena. The success at the Eurosuole Forum in match 1 was certainly historic and represents one of the many beautiful moments of our season. We showed that we can win against anyone and anywhere, when everyone is there".
THIRD PLACE. "This season has shown that Perugia and Civitanova have always had something more than us and that we therefore deserved the third final place in all the main Italian events we played: Supercoppa, Regular Season, Coppa Italia and Play Off Scudetto. This ranking is therefore the correct one for what Itas Trentino did over the entire year".
VERONA. "On Monday we started training in the gym for our next and last match, the one in Verona for the 2021 CEV Champions League Final. We will be faced with a very strong team, Kedzierzyn-Kozle, which coach Nikola Grbic has managed to bring to the field better and better, making them play a convincing volleyball without any big mistakes. We will have the advantage of having a lot of time to prepare for the appointment and of already knowing well the venue where the match will take place, which is an hour's drive from Trento. It is obvious that we would like to go to the field as soon as possible, but we must not be in a hurry. It is a match that can change our career and give Trentino Volley further prestige; we are lucky to be able to play it in Italy. Personally, the Champions League is one of the few trophies I've never won and I've made it one of my personal goals since the start of the season. Our path in the competition has been extraordinary; for the sacrifices we made, we deserve this final and we are happy to be able to play this competition again next year".
TEAM. "At the beginning of the season the squad was completely new, but I must say that it took us very little time to become a real group, as demonstrated by the many difficulties we have been able to overcome together; I am thinking for example about the three days of the Champions League played at the BLM Group Arena without regular setters. I am very happy with what we have done together and we have a great opportunity to end the season in an even better way. At the beginning I couldn't imagine to find myself at this point of the season with this possibility; we know that we can only win a match like this if we play as a real team".
Trentino Volley Srl
Press Office