Trento, 12 October 2021
Itas Trentino winning right away at the debut in Superlega 2021/22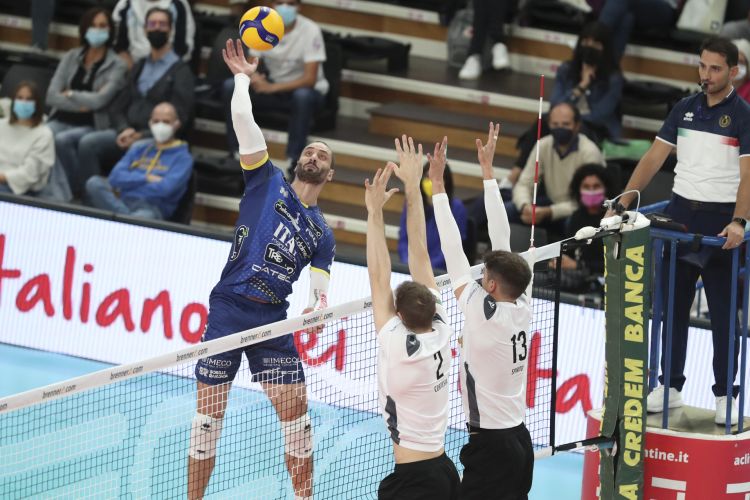 Itas Trentino starts off on the right foot its journey in SuperLega Credem Banca 2021/22, winning by 3-0 in the postponed match of the first round of regular season. In a BLM Group Arena finally re-opened to the fans, Angelo Lorenzetti's renovated formation was able to win the 41° derby of Adige with a score of 3-0, which doesn't tell how the match has been balanced and uncertain for at least half of its duration.
Except for the first set (clearly won by the locals), the game has been a real battle: at the end, Lorenzetti's team won because it could count on more attacks (Lisinac 12 points, Pinali 9, Lavia 8, but also Michieletto, on the field in the final parts of the second and third set) and on the style and cold-bloodedness of Kaziyski, decisive in the most important moments and at the end best scorer with 16 points and 53% in attack with three blocks and four aces. His return in the yellow-blue jersey couldn't have been any better, even though Verona of the formers Stoytchev, Raphael, and Cortesia has tried in every way to spoil the party without success, because it was too empty in attack, with only Mozic who scored with a certain regularity. The three points conquered are important for the ranking, but also for the morale considering how they have been conquered, namely winning arm wrestling against the opponent between the second and third set.
Below the report of the postponed match of the first round of regular season of SuperLega Credem Banca 2021/22, played this evening at the BLM Group Arena.
Itas Trentino-Verona Volley 3-0
(25-16, 29-27, 25-23)
ITAS TRENTINO: Lavia 8, Podrascanin 8, Sbertoli 4, Kaziyski 16, Lisinac 12, Pinali 9, Zenger (L); Michieletto 2. Did not play: D'Heer, Cavuto, Albergati, Sperotto, and De Angelis. Coach: Angelo Lorenzetti.
VERONA VOLLEY: Asparuhov 7, Nikolic 3, Jensen 7, Mozic 18, Cortesia 4, Spirito 1, Bonami (L); Donati (L), Raphael, Aguenier, Qafarena 5. Coach: Radostin Stoytchev.
REFEREES: Brancati from Città di Castello (Perugia) and Saltalippi from Torgiano (Perugia).
SETS DURATION: 25', 33', 26'; tot 1h and 24'.
NOTES: 1,420 spectators, with proceeds of 15,756 euro. Itas Trentino: 11 blocks, 5 aces, 12 service errors, 4 action errors, 49% in attack, 51% (20%) in reception. Verona Volley: 7 blocks, 7 aces, 12 service errors, 8 action errors, 39% in attack, 42% (23%) in reception. MVP: Kaziyski.
Trentino Volley Srl
Press Office