Vibo Valentia, 17 October 2021
Attitude, block and good play: Itas Trentino wins in four sets in Vibo Valentia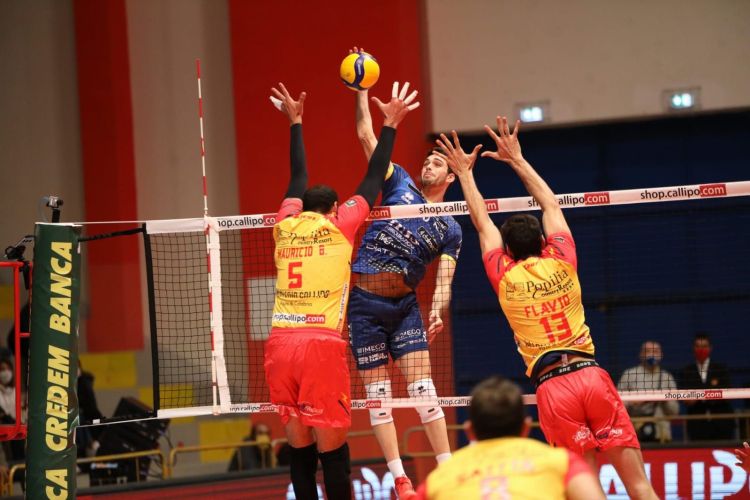 Itas Trentino ends with a smile the first week of official appointments of the season 2021/22, collecting all the stakes of the away game in Calabria. After the encouraging home win (3-0) with Verona of Tuesday, today, the yellow-blue formation has immediately offered continuity of results in its journey in SuperLega, winning in four sets the postponed match of the second round of regular season at the PalaMaiata in Vibo Valentia.
An important statement because it gives Lorenzetti's team enthusiasm and conviction in its own means. The team was good at having the correct approach to an insidious match and also strong in containing the comeback attempt of the opponents (who grew a lot from the third set onward). With a very convincing performance between block (scored 14 times, 7 only with Lisinac) and defence, the yellow-blue were immediately able to take the reins of the game, taking away certainties in attack to the Calabrian team. The formation with the three spikers lined up at the same time on the field used by the coach (who has chosen Lavia as fake opposite spiker) has paid thanks to a great management of the whole attack front of Riccardo Sbertoli, as shown the four attackers out of five in double figures: Michieletto best scorer of his team with 17 points (of which three at service), Lavia (52% in the net, three blocks, and an ace), and Lisinac (62% in the first half) who scored 15 times, Kaziyski 14. All elements useful also in the second part of the match, when the match seemed to get complicated considerably. This wasn't the case and the positive tradition of the first away game in regular season was confirmed in this circumstance as well.
Below the report of the match valid for the second round of regular season of SuperLega Credem Banca 2021/22, played this evening at the PalaMaiata in Vibo Valentia.
Tonno Callipo Calabria Vibo Valentia-Itas Trentino 1-3
(21-25, 16-25, 29-27, 21-25)
TONNO CALLIPO CALABRIA: Candellaro 2, Saitta 3, Mauricio Borges 10, Flavio 8, Nishida 20, Douglas 12, Rizzo (L); Nicotra, Gargiulo 4, Partenio, Basic, Bisi. Coach: Valerio Baldovin.
ITAS TRENTINO: Kaziyski 14, Lisinac 15, Lavia 15, Michieletto 17, Podrascanin 7, Sbertoli 6, Zenger (L); Pinali. Did not play: D'Heer, Cavuto, Albergati, Sperotto, and De Angelis. Coach: Angelo Lorenzetti.
REFEREES: Cappello from Sortino (Sora) and Canessa from Bari.
SETS DURATION: 28', 24', 32', 27'; tot 1h and 51'.
NOTES: 1,095 spectators, with proceeds of 7,955 euros. Tonno Callipo Calabria: 8 blocks, 5 aces, 15 service errors, 10 action errors, 41% in attack, 45% (24%) in reception. Itas Trentino: 14 blocks, 9 aces, 17 service errors, 7 action errors, 48% in attack, 59% (33%) in reception. MVP: Michieletto.

Trentino Volley Srl
Press Office