Trento, 20 October 2021
Bruno Da Re new President of Trentino Volley, succeeds Diego Mosna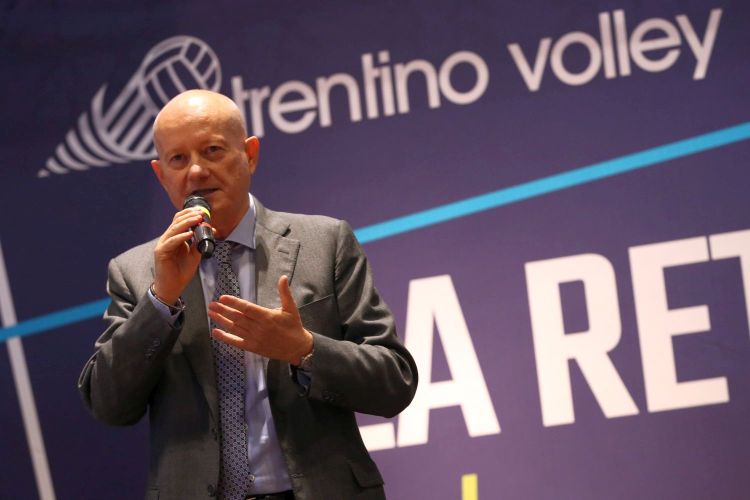 The associates' meeting of Trentino Volley, reunited this evening at the Grand Hotel Trento, has elected Bruno Da Re President and Mauro Poli Vice President of the Company.
This organisation is the result of the commitment of the group of associates-entrepreneurs of the territory that, acknowledging the will of the Knight of Labour Diego Mosna to leave the presidency of Trentino Volley, has tried to create a project that guarantees the Company, in the immediate future, continuity in the venture of success that characterises it.
Diego Mosna, founding Member and President for the first twenty-two years of activity that have seen the Company establish and strengthen itself at the biggest level of worldwide volleyball, passes the baton to the new associates and confirms his own presence in the new corporate organisation.
The gratitude towards Diego Mosna for what he has done until today is enormous: his the vision, his the passion, his the tenacity. The new associates take over from him, committing to keep high the value of Trentino Volley.
The shared goal is to safeguard the sports heritage built by Trentino Volley in the years, inside and outside of the field, protecting the winning image of Trentino in Europe and in the World.
The new associates have wholeheartedly made themselves available to this Venture born and prospered in the local territory, becoming soon an example of absolute value.
The meeting has discussed the approval of the Budget 2020/2021 and the designation of the new Board of Directors composed of 7 directors: Bruno Da Re (President), Mauro Poli (Vice President), Christian Dallago, Daniela Filbier, Filippo Ghezzer, Nicola Lenoci, Fabrizio Lorenz. The role of Auditor has been assigned to the company Trevor srl in Trento.
At the end of the Associates' meeting, the corporate evolution of Trentino Volley srl has been improved: part of the company shares of Diatec Holding spa of the Knight of Labour Diego Mosna has been acquired and distributed between Soci FM srl, F.lli Poli spa, Rioca srl, Dalmec spa, Mediocredito Trentino Alto Adige spa, and Marco Previdi.
Trentino Volley Srl
Press Office