Trento, 19 November 2021
D'Heer's first time as regular in the yellow-blue team in Piacenza: "A great emotion"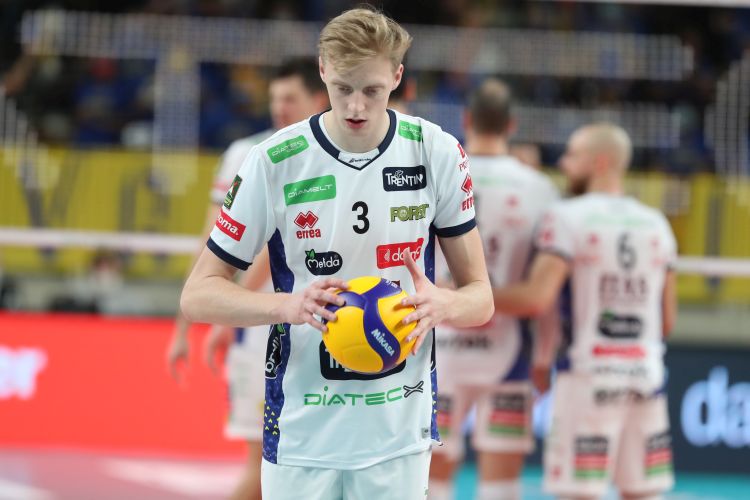 The first time as a regular in a championship such as the Italian SuperLega is never forgotten; if there's also an important success, accompanied by a high level performance, it becomes epic. It went just like that on Thursday night for Wout D'Heer, the 20 year old Belgian central that against Piacenza for the first time was part of the starting six of Itas TrenTino, due to the forced absence of Marko Podrascanin.
The numbers tell better than any other way the good impact on the match gained thanks to the place 3 from Dendermonde, taken in the summer from Lindemans Aalst: 8 points in four sets played, 56% in attack (5 out of 9 with only one error) and three winning blocks, the specialty of the house. "The statistics explain my game well - Wout confirms - ; I managed to get into the game at the net right away, even though with time the opponents took more measures, while I struggled to express myself on the serve, a fundamental skill in which I didn't find the necessary continuity. Beyond everything, I'm really happy to have had this opportunity, because playing in the Italian championship is a dream for any volleyball player in the world and it was for me too. It wasn't easy to replace one of the best players like Podrascanin, but in the end the victory came and that's the most important thing."
"I only knew I was going to play as a starter in the morning when we learned that Potke couldn't be in the match and I immediately felt some pressure, the weight of the responsibility of playing such an important match - continued D'Heer - . In the afternoon I just tried to think of the positive things I could do and give my best, studying the tactics we had to choose. The SuperLega is difficult and beautiful at the same time, because in every round there are no easy games. There are teams that are stronger on paper and others that are less so, but our home loss to Padova shows that it is only the court that determines the result, not the paper".
After a day of rest, Itas Trentino will return to train at the BLM Group Arena only on Saturday morning, for the first of the two sessions scheduled for that day in view of the next commitment, scheduled for Sunday, November 21st, 2021 at the PalaPanini in Modena.
Trentino Volley Srl
Press Office