Modena, 21 November 2021
SuperLega, the A22 derby won by Modena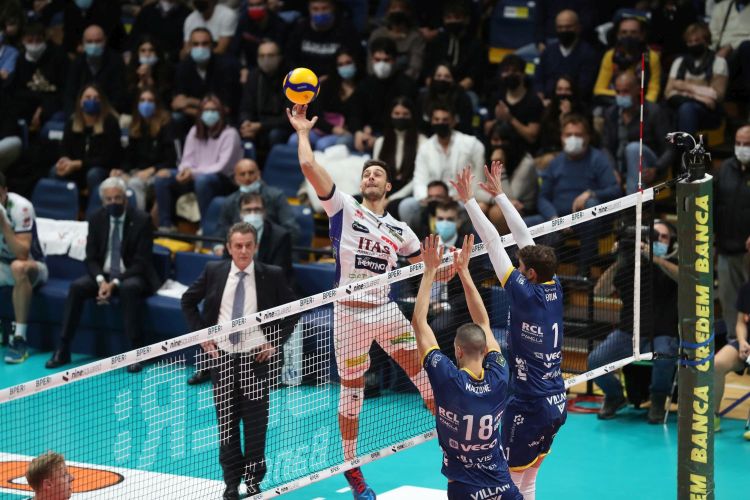 The 77th derby of the A22 was won by Leo Shoes PerkinElmer Modena. This evening at the PalaPanini the hosts won the match valid for the seventh round of the SuperLega regular season, imposing the third stop of the season on Itas Trentino.
The final 3-0 in favor of the Emilians is perhaps too hard against the team of Angelo Lorenzetti, who, despite the absences of Podrascanin (still in isolation) and, at the last moment, of Kaziyski (slight sprain to the right foot suffered in the morning refinement), offered a generous test in which, however, lacked the sharpness to at least try to extend the dispute until the fourth set. The opportunity came at the end of the first set played at a great level (52% in attack, two blocks and three aces), in which Sbertoli and his teammates built two set balls before giving in to the second attempt of the locals. Similar script also in the third period, in which Itas Trentino went from 10-16 to 22-22 before suffering the decisive break of the ex Nimir, best scorer of the match with 18 points. The second set was less hard-fought, won hands down by Modena, which was great in attack. Trento responded with a good service (6 ace against 8 errors) and a high balls couple like Michieletto (69% in attack and two ace) and Lavia (48% with two blocks and one point), who closed the match with the same score (13 points). The loss in Emilia takes away the primacy of the yellow-blue team, who still remain in second place.
Here is the summary of the match valid for the seventh day of the regular season of SuperLega Credem Banca 2021/22 played this evening at PalaPanini in Modena.
Leo Shoes PerkinElmer Modena-Itas Trentino 3-0
(28-26, 25-15, 25-22)
LEO SHOES PERKINELMER: Ngapeth E. 16, Mazzone 8, Nimir 18, Leal 12, Stankovic 6, Bruno 1, Rossini (L); Van Garderen, Sala 1, Sanguinetti, Gollini. N.e. Ngapeth S., Bellanova. All. Andrea Giani.
ITAS TRENTINO: Sbertoli 3, Cavuto 9, Lisinac 6, Lavia 13, Michieletto 13, D'Heer 7, Zenger (L); Pinali, Sperotto. N.e. Kaziyski, Albergati, De Angelis. All. Angelo Lorenzetti.
REFEREES: Boris from Vigevano (Pavia) and Brancati from Città di Castello (Perugia).
SET DURATION: 31', 23', 29'; tot. 1h 23'.
NOTES: 2,918 spectators, takings of 40,187 euros. Leo Shoes PerkinElmer: 4 blocks, 9 aces, 8 hitting errors, 4 action errors, 64% offense, 50% (34%) reception. Itas Trentino: 5 blocks, 6 aces, 8 hitting errors, 4 action errors, 52% offense, 35% (23%) receiving. Mvp Ngapeth.
Trentino Volley Srl
Press Office