Perugia, 02 December 2021
Sir Sicoma Monini-Trentino Itas 3-0, match report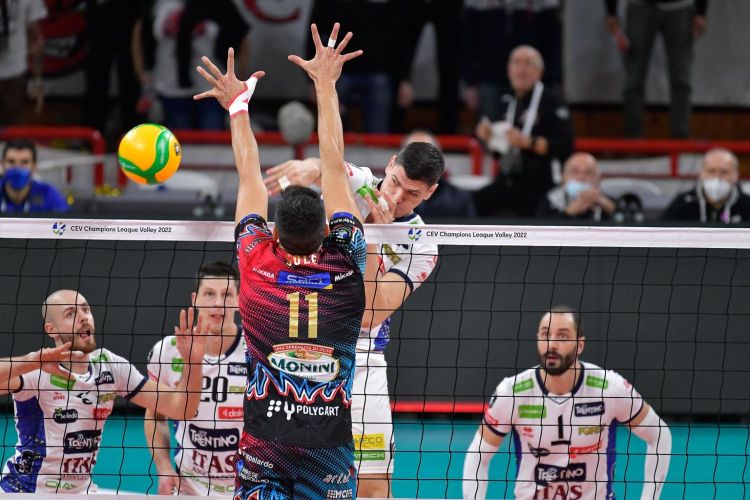 Match report. Itas Trentino gets Podrascanin back, who is immediately lined up diagonally to Lisinac in the centre of the net by Lorenzetti; the starting six is completed with Sbertoli as setter, Lavia as opposite spiker, Kaziyski (absolute record: 346 games with yellow-blue team) and Michieletto in attack, Zenger libero. Sir Sicoma Monini responds with Giannelli as setter, Rychlicki as opposite spiker, Leon and Anderson as hitter spikers, Ricci and Solé as middle blockers, Colaci libero. The beginning of the game is particularly balanced, with the two teams interchanging the control of the game up to 7-7, until Ricci and Rychlicki block Lisinac two times, delivering the first real advantage to the host team (7-9). Then, the serves of Leon and the attacks of Anderson widen the gap (10-14 and 11-16), forcing Lorenzetti to call his two times out in a matter of seconds. At the restart, Kaziyski gives his contribute at the net and at serve (ace for 15-18); it's the turn of Grbic to stop the game, but Trento is in a good time and it is only just one point behind (18-19) thanks to the help of Michieletto, but the situation changes and Trento suffers from a heavy partial of 3-6 between the serves of Leon and a block of Ricci (21-25).
The second set starts with three consecutive aces of Leon, that lead Perugia from 3-3 to 3-6 (yellow-blue team time out). Itas Trentino sticks together and gets back in the game with Lesinac and Kasiyski at serve (8-9) and overcomes the opponents with Michieletto (12-11). The comeback lasts a moment, because Perugia player number 9 goes back to the service line and creates a break that ends up at 13-19 thanks to the aces and to the winning moves of the hosts. The destiny of the set is already written and ends at 18-25, without any important moves of Trento.
During the third set, Itas Trentino believes again in the game with the advantage 6-4, but then Perugia quickly ties (6-6) and then takes a large advantage (11-16) thanks to winning serves, blocks and counterattack of Leon and Anderson. In the most difficult moment, the yellow-blue team starts to play their best and stands out again with Lavia and Kaziyski (15-18). Perugia speeds up again and seems to have the victory of the three sets at hand; Michieletto is able to revive the situation with his wonderful serves until 23-24. Leon in pipe puts an end to the game.
Trentino Volley Srl
Press Office