Trento, 18 January 2022
Kaziyski on "RTTR Volley": "This team makes me feel young"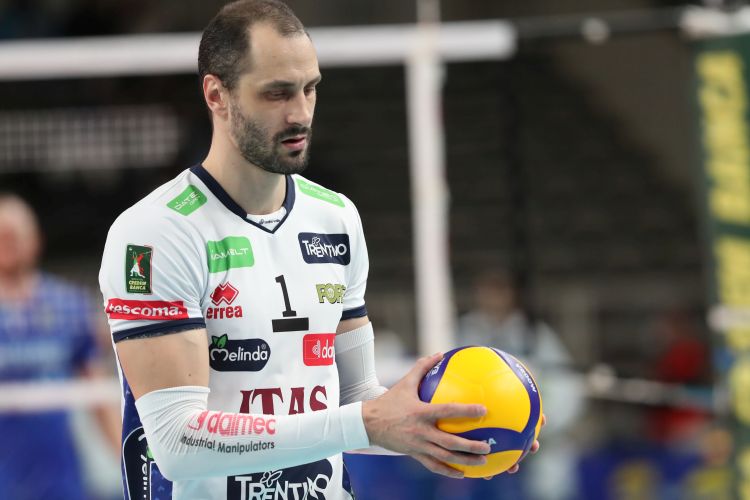 The captain of Itas Trentino, Matey Kaziyski, was the main character of the weekly episode on "RTTR Volley", the program that RTTR, the yellow-blue network partner, broadcasts and dedicates to Trentino Volley every Monday. Here are some of the most interesting moments of the long interview done by Sara Ravanelli.
COPPA ITALIA FINAL FOUR. "We did well at getting the qualification, because it wasn't easy despite of what you may think now, after the 3-0 over Monza. The team faced in a good way the match, both inside and outside, and did it with the right attitude, even though it came from ten days without official appointments. Instead, we took advantage of the time available to train, but also to take a breath and go to the event more recharged. I am happy that this is the first time Final Four for some of my teammates; these are wonderful emotions and we will everything we can to gain the possibility to enter in the last round of the tournament. I am proud that I have already won Coppa Italia three times with Trentino Volley, but this doesn't exclude the joy I feel in re-living such an event again; the more time passes the harder it gets to gain some results."
SCHEDULE. "It is a period in which we are not sure of playing the match until some hours before it, so what we need is to focus more on the performance rather than on the study of the opponent, considering that this can constantly change. We won't play with Vibo Valentia on Thursday and this could force us to have two months really non-stop, for example February and March, between rematched and normal appointments of championship and Champions League. We can't do anything about it, so we will try to be always ready."
LEADER. "I don't feel any particular responsibility inside the group, that is made of good and capable players. So, there is absolutely no need to make my voice heard or say anything, because everyone knows which is the right direction to follow; I am extremely proud to be the leader of this Itas Trentino. My teammates make me feel young".
GENERATIONAL DIFFERENCES. "Nowadays, young players are more complete from a technical point of view compared to when I stepped into the limelight. They have a knowledge that I didn't have at their age and I gained it with time. The trend has changed; now, the players are more versatile than before, there was more role specialization when I established myself."
QUALITY AND DEFECT. "The young face of this Itas Trentino can be both a quality and a defect. On one hand we put a lot of energy and desire to play in the court, on the other we lack of experience sometimes and of the calm needed to handle some kind of situations."
CHAMPIONS LEAGUE. "We were flawless against Cannes last Thursday, but we have to continue to be so in this competition if we want to move to the next round and enter the quarter final. We will play in Istanbul in a week, where we will find more difficulties and probably a hot atmosphere. We need the three points at stake and we are working to be at our best for the match in Fenerbahce's court. I haven't played in Champions League for some years; at the beginning it wasn't easy to adapt myself again to this level, but fortunately I didn't lose the hang of it."
SBERTOLI. "I knew well Riccardo even before this season, because I used to play against him in the previous years when I was in Verona and he was in Milan; I have to say that he was better than I expected. He was a pleasant surprise and he is one of his team's secrets".
STATISTICAL RECORDS. "I am extremely proud and attached to the many records that I have racked up with Trentino Volley, but I am proud of being the most present player and the best scorer even before, the results and victories that I have achieved with Trentino Volley are important to me. I choose team goals rather than individual ones and I always will."
Trentino Volley Srl
Press Office