Trento, 22 January 2022
SuperLega, home preview finished in three sets against Ravenna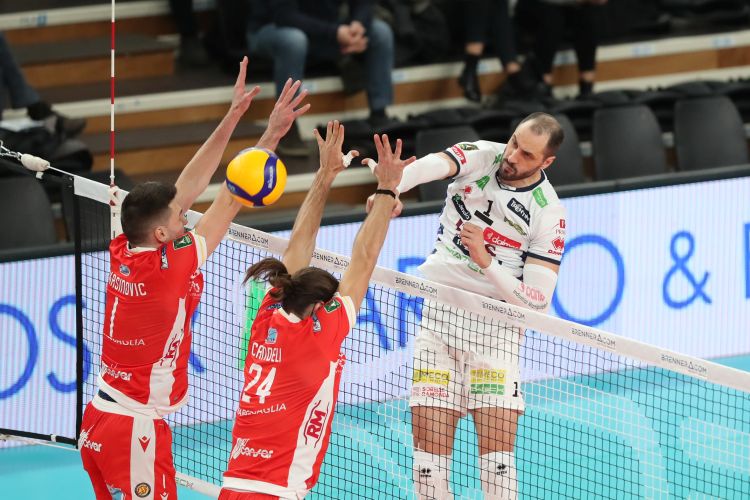 The fourth consecutive home event of 2022 underlines the health of Itas Trentino, on the eve of three particularly important and delicate away games. This afternoon at BLM Group Arena, the yellow-blue formation won in a little more than an hour and fifteen minute against Consar RCM Ravenna in the preview of the twenty-fourth turn of regular season SuperLega Credem Banca 2021/22.
The score of 3-0 at the very bottom of the Championship confirmed the ability of Angelo Lorenzetti's formation to solve matches in three sets at BLM Group Arena (sixth seasonal victory in the friendly facility with this result, the eleventh one in total). At the same time, it allowed Kaziyski and his teammates to take back the third place in the ranking, which in the last few weeks was in the hand of Modena, also because of the matches that were put off by Trentino Volley during this period. To gain the entire price at stake, the host team had to struggle mainly in the first two sets, in other words until the guest team felt the fatigue of returning on the court after forty days without official matches. The wrath of the team of Romagna were controlled with blocks and services. The yellow-blue team achieved 2-0 at the sprint and then gave it all in the third set, showing off the same players that previously stood out: Kaziyski (mvp and best scorer with 17 points and 88% in attack with a block, an attack and a single mistake in the whole match), Podrascanin (the best at blocking: the first set realized allowed him to arrive at the amount of a thounsand in the Italian competition and to receive the right gift form staff, teammates and pubblic) and Lisina (11 with 86%, 2 blocks and 3 aces). Faces and numbers that move the team in the right way closer to the important away game in Turkey of mid next week for Champions League.
Below the score board of the twenty-fourth turn of regular season SuperLega Credem Banca 2021/22, played this afternoon at BLM Group Arena.
Itas Trentino-Consar RCM Ravenna 3-0
(26-24, 25-21, 25-14)
ITAS TRENTINO: Podrascanin 9, Sbertoli 1, Kaziyski 17, Lisinac 11, Lavia 15, Michieletto 9, Zenger (L); Sperotto, Pinali, D'Heer. N.e. Cavuto, Albergati, De Angelis. Trainer Angelo Lorenzetti.
CONSAR RCM: Ulrich 11, Fusaro 3, Klapwijk 2, Vukasinovic 13, Candeli 3, Queiroz Franca, Goi (L); Ljaftov 8, Biernat, Orioli 5, Comparoni. N.e. Pirazzoli, Erati. Trainer Emanuele Zanini.
REFEREES: Armandola di Vigevano (Pavia) and Puecher di Rubano (Padova)
SET DURATION: 31', 25', 21'; tot 1h and 17 min.
NOTES: 1.202 viewers, proceeds of 11.512 euro. Itas Trentino: 13 blocks, 6 aces, 9 mistakes at service, 3 mistakes in action, 62% in attack, 55% (21%) in reception. Consar RCM: 2 blocks, 1 aces, 5 mistakes at service, 6 mistakes in action, 50% in attack, 42% (18%) in reception. Mvp Kaziyski.
Trentino Volley Srl
Press Office