Trento, 05 May 2022
Kaziyski on CEV YouTube channel: "Me, Trentino Volley and the Final in Ljubljana…"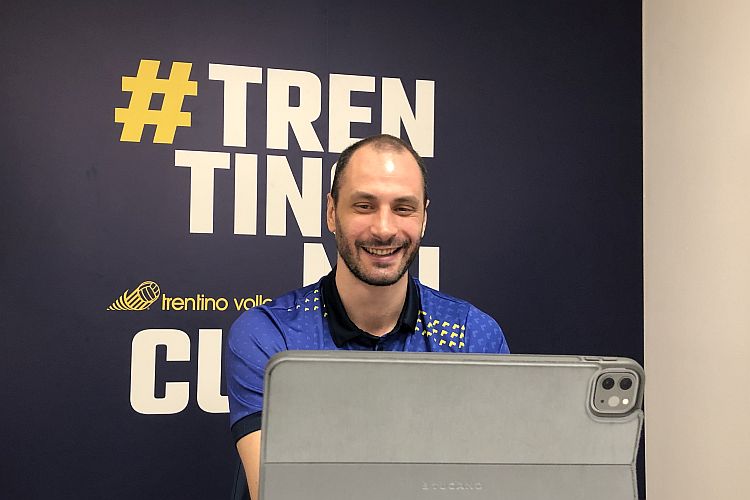 The Captain of Trentino Volley, Matey Kaziyski, has been the main character of a long live interview on the CEV YouTube channel on Wednesday 4th May. Here are the most engaging passages:

JOURNEY. "It is curious and incredible at the same time thinking that the journey of Trentino Volley in this season has been the same of the one in the previous Italian Championship but even in Champions League, even though the team is completely different. Just like last year, Trento met Piacenza and Civitanova in the Play Off Scudetto after reaching the third place in regular season and defeated Berlino and Perugia in Europe before the Final with Kedzierzyn-Kozle. We would like to change the result of this last match at least, but apart from this we are really cheerful that we get where we are today, because our team has changed a lot and no one expected us to do this journey. It is a big surprise and it is the first little goal".
REBUILDING AND LINE-UP. "Last summer this team was rebuilt on an organic level in almost its totality, choosing to lay the foundation for a new program base on young players that can be the future of Trentino Volley and that are supported by few experienced players like me. This is one of the reasons that we have used a line-up with three hitter-spikers, without a plain opposite-spiker, and fortunately, the beginning was immediately exciting with the victory of Super Cup, that convinced us of our means. It wasn't an easy journey, but our participation in so many events helped us carrying out this kind of line-up, in which the hitter-spikers are constantly changing their position in first and second line. Lorenzetti showed it as an extra opportunity to play at a higher level; we knew that we could go back in case it didn't work out well, but fortunately it wasn't necessary".
AGENDA AND PHYSICAL CONDITION. "It's true that during this season we have played numerous matches and many away-games, sometimes particularly long, but it is equally true that we haven't got big physical problems and this is the reason why we have been able to carry out positively our technical project without big interruptions during its progress. Facing so many official appointments has helped us improving our understanding. The paradox is that now we have two weeks to train for a single match after such an intensive agenda; our goal is to restore from a physical point of view in this first week and then to find our strength and game rhythm again in the second one in order to give the best of us for all the match duration in Ljubljana".
SEMIFINAL WITH PERUGIA. "It was amazing winning that match, not only for us but also for all the people around us. I don't ever remember receiving so many congratulations messages for a victory just like in the second round of Semifinal played at BLM Group Arena against Sir Sicoma Monini. The technical and professional level of the double match was exceptional; maybe you can find more precisely your opponents' weak point when you play within few weeks against them, and in that case, you have to hit the nail while you still can. That's what happened with Perugia."
KEDZIERZYN-KOZLE. "It is a completely different opponent from the ones we have faced up to now in this season, because it plays in a championship that is different from our as the Polish one. However, volleyball is always the same sport and I believe that the decisiveness at serve makes the difference as always; that will be the main goal of both teams that will play the Final in Ljubljana, obviously there will be room for some surprises, as it always happens in this kind of matches. It's a good moment for the life of this team and this group: we will give everything and will be ready for any kind of situation".
EXPERIENCE. "I believe that the season we have lived from the beginning has prepared us in the best possible way for what's waiting for us in Ljubljana. We have to be careful but also, we don't have to burden us with pressures that will increase inevitably with time. We have to be patient, because there are still many days left to the game. My experience concerning this kind of matches is particularly important and I'm trying to give it to the others, as an attempt of letting them know that we have to be faithful to work, to be professional and concentrated for a long time".
LJUBLJANA. "The Slovenian capital as location for the game is a good solution for both fans, because it isn't so far from Italy and Poland. I hope that this will be a great match even on the bleachers and that there will be a lot of fans, independently from the team they will support. The last Final was played closed-doors in Verona and it is wonderful that now that time has ended. It's completely different having the support of our fans for us players, even on a vibes level; it makes a big difference".
A UNIQUE MEMORY. "If I think of something that links me to Champions League, I can only think of the kind of approach we had for the Final in 2011, played in Bolzano and won in front of our audience. Italians are very superstitious but, in that occasion, we skipped all the rituals because the bus broke some moments before leaving from the hotel to go to the arena and we made do some way to reach the destination. It could be a negative sign in view of the game, but everything went well. We won playing well.
Trentino Volley Srl
Press Office