Trento, 17 May 2022
Lorenzetti on RTTR: "Looking for the right balance between pressure and expectation"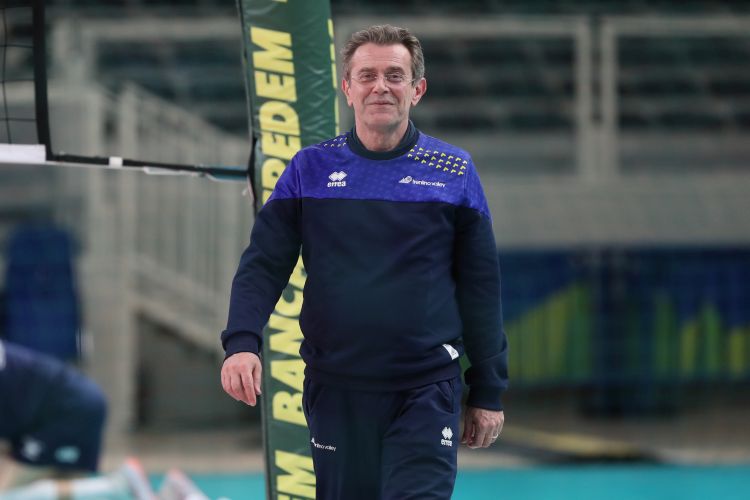 Trentino Volleyball coach Angelo Lorenzetti was the main guest on the weekly episode of "RTTR Volley," the program that the Gialloblù media partner RTTR broadcasts and dedicates to Trentino Volleyball every Monday. Here are some of the most interesting passages from the interview conducted by Sara Ravanelli.
COUNTDOWN. "The anticipation and pressure for Sunday's Champions League Final in Lubiana are starting to be felt, as they should be; in the last few weeks we have been trying to stay balanced between the two factors, a position to be sought individually. In almost every practice I have seen the right commitment from the team. Inevitably when you haven't played a game for so long it is normal not to have your finger on the pulse of the situation completely, however, everything we could do, we have done so far. We have a couple of days of training left and then we will go to Lubiana to play all our cards."
ENERGY AND BREAK. "Our opponents have been playing until a few days ago and certainly from the physical point of view they will be better, but from this point of view we have recovered some critical situations that we had accused after game 5 of the Play Off Semifinal in Civitanova. We had finished the championship with our energy tank almost empty and we have recharged it; the only regret is not being able to continue feeding our rhythm of play with official matches, because we had really reached a good level, the one that had allowed us to pass the round in the semifinals with Perugia. All the more so in Lubiana we will have to start by always sticking to the score, to grow as the match goes on."
GHOSTS. "We don't have any big ghosts compared to last year's Final, because you can only have these if you didn't do your homework fully, while in that circumstance Kedzierzyn-Kozle played better than we did and deserved success. That game we played it on a razor's edge, ball change after ball change; they want to play this game as well as a protagonist."
KEDZIERZYN-KOZLE. "Like last year, Zaksa is a team without major weaknesses, which has a good balance of play but is not unbeatable. It has a strong roster because it also has a strong club behind it, which knows how to plan for its future and was able to remain calm even when it lost last season's Scudetto Final. Compared to 2021, it has revolutionized its roster, even changing coaches, but it has remained competitive."
FANS. "I am not used to asking anything from the fans, except for sharing what we experience every weekend on the field and in every game. I know that there will be many who will come to Slovenia for this fixture and we are very pleased about that, even keeping in mind that in the 2021 Final none of them were able to enter and it was limiting as a feeling. There will also be a lot of Polish fans, but I am sure that our fans will be able to make the team feel their warmth as happened especially in the final part of this season."
GROWTH. "During the season it is difficult for us to have constant progress; there are more auspicious periods and others less so to be able to grow, but I believe that after the Italian Cup Final in Bologna, the players have made an important leap in quality, demonstrated in the Play Off and Champions League Semifinals."
NO REGRETS. "I think all the factors have meshed well this season, reserving us only good feelings and no regrets whatsoever. We had a very good start, we never missed important matches, even in terms of approach, and even when we suffered injuries we still managed to find countermeasures. I don't consider everything that has happened a normal thing, on the contrary; I don't think it happens often to find such an important and true cohesion between players, staff and society, and I don't think it is easy to repeat it. Cavuto's example is emblematic; he managed to do what he promised himself at the beginning of the season, always being a protagonist in his role and giving so much to the group, not only when he took the court."
Trentino Volley Srl
Press Office