Trento, 22 June 2022
Laurenzano: "Stunned by the call from Trentino Volley. I'm a guy who never gives up"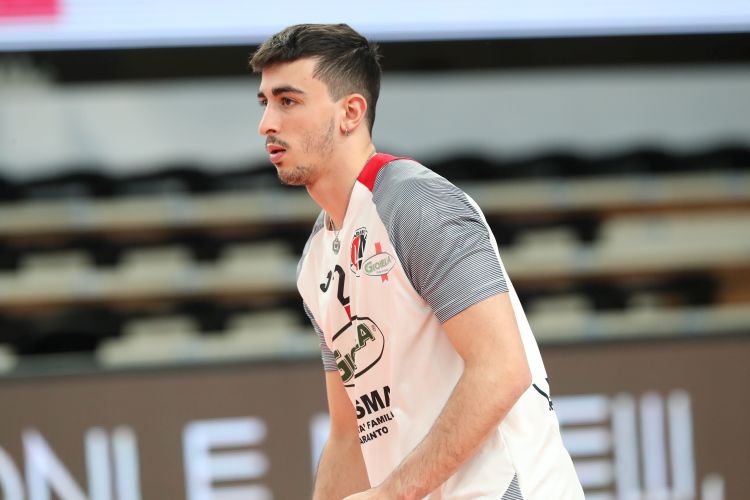 The first interview as a Trentino Volley player for Gabriele Laurenzano, a 19-year-old libero from Calabria who was made official today.
Welcome to Trentino Volleyball, Gabriele! What led you to choose this club to pursue your career?
"I was stunned by the call from Trentino Volleyball and obviously I couldn't help but accept the offer. To have attracted the attention of such an important Club after only one year of SuperLega behind me is a source of great pride for me, but it is also a great surprise. I am overjoyed to be able to wear the jersey of a Club that has always worked very well with young people and at the same time has always managed to remain at the highest level, as shown by recent results. Lorenzetti is an experienced and very good coach, I'm sure he will know how to develop me in the right way; it will be a wonderful challenge: I want to see if I can be the libero up to the level of a team with great ambitions like this one."
Who is Gabriele Laurenzano?
"I am a very combative guy, I am born competitive and I try to transmit on the court all the desire I have to win and never give up. That's why on defense I always try to keep the most difficult balls in play and I don't give up until the ball is actually dropped. It's a mentality that comes individually, but it's also good for the team, because it's great to see a teammate who never gives up, especially in the second line. I am one of those."
Inevitable question: are you a libero more inclined toward defense or receiving?
"I think I'm more inclined to defense but one doesn't exclude the other, also because the coaches I've had tell me instead that I'm more ready in reception at the moment. Being able to work well in both fundamentals charges me a lot, but at the same time I have to stay sharp and be able to manage the second line in the best way possible. I can't deny that great defense for me is like scoring a point for a dunker, so it charges me more."
In this respect, is there any player you have drawn inspiration from?
"I started playing as a hammer but soon realized that if I wanted to get to high levels, I would have to change role. I listened to the advice of Vincenzo Fanizza, my coach in Castellana Grotte, and put on the libero jersey trying to find role models who could only be Sergio and Grebennikov. To think that I will play in the same club where until two years before there was Jenia exalts me. It is a dream."
Have you set goals for yourself, individually and as a team?
"I really like winning and I hope to do it often with Trentino Volleyball, also because this team has everything to fight at a high level until the end. At the end of the championship, then, I would like to have succeeded in attracting the attention of the technical staff of the national team; I have gone through the whole trafila of the Azzurri youth teams and I would like to crown this path with a convocation in the senior group. On a personal level I also definitely want to improve my percentages in reception; from this point of view I like to compare myself often with the scout to understand how I am playing and to understand where I can grow."
Your impact with the SuperLega in a Taranto jersey has been exceptional....
"I could not expect it, because before that season I had at most played in Serie B. So the double jump forward was difficult but very stimulating; for someone who is confronting the top Italian league for the first time, it is not easy to be able to absorb the impact with a completely different ball speed and power. The setters, then, are very good; in the first few days I struggled to understand whether the riser for the first half or the pipe came out of their hands, but as time went by I managed to adapt. It is a beautiful personal challenge every day."
You're from Calabria and went through youth in Castellana Grotte. It is a very similar path to what Daniele Lavia experienced....
"I know him well and have also heard from him recently. We have often crossed paths in both Rossano and Castellana Grotte, and I am happy to be able to live this experience away from home together with him who, inevitably, will be a point of reference for me. Lavia is a fine example of how by working hard and giving your best you can reach great levels with this club."
Trentino Volley Srl
Press Office