Trento, 01 October 2022
Season 2022/23 starts! Guide to Itas Trentino-Emma Villas Aubay Siena on Sunday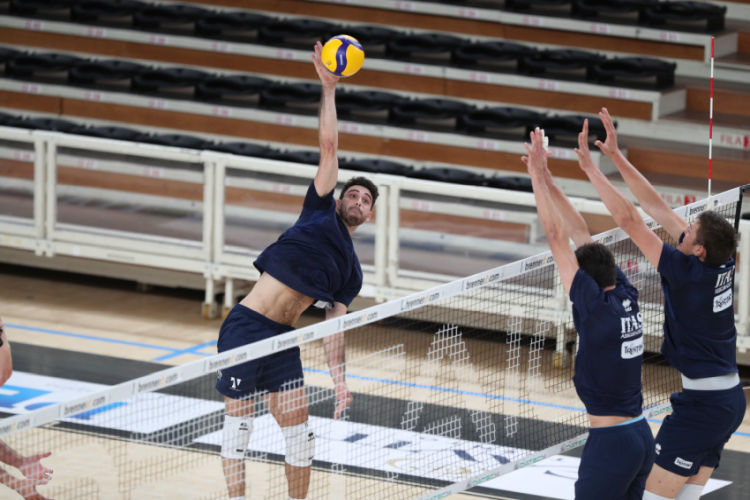 The twenty-third season of Trentino Volley's history will officially start on Sunday October 2nd at BLM Group Arena. The yellow-blue society will initiate his SuperLega Credem Banca 2022/23 by competing at home against Emma Villas Aubay Siena in the first turn of the regular season match. The match's start is foreseen for 6 p.m.: live on Rai Sport + (channel 58 DGTV), Radio Dolomiti and live broadcast on the platform OTT Volleyball World Tv.
HERE ITAS TRENTINO After an extremely long pre-championship preparation, that lasted more than fifty days (most of them spent in lower ranks), the team is ready to begin his journey, re-starting from eight out of the fourteen players of the previous season's shortlist but also from great and interesting technical-tactical news to propose.
"We are happy to come back and play a match, and to start putting our public in the field with us – explained the coach Angelo Lorenzetti - . We are ambitious of course, but aware that also during this season we will be competing against even more structured opponents with a further better average championship level, compared to the recent past. In the debut's turn we will be competing against Siena team, a society that, despite having only a few weeks available, has succeeded in creating a competitive shortlist, characterised by some great individuals such as Petric, Finoli and Pinali, whom we are pleased to meet after the year spent together, which has been important to reach our goals".
Only at the very last moment will the yellow-blue team's coach decide which setup to use, by taking into consideration that in the last two matches played a week ago in Biella, he proposed various sextet's setups even among the different sets. Trentino Volley will take the field on occasion of the 944th official match ever, and it will compete for the 656th absolute victory: now it counts 342 victories at home and 313 away.
DEBUT AT HOME AGAINST A NEWLY PROMOTED, JUST LIKE IN OTHER SIX OCCASIONS The championship's debut at home against a team that played in A2 Series until the previous season is a highly frequent habit for Trentino Volley; in as many as six circumstances it had already happened that the first day's home match against a team from the cadet division occurred: season 2006/07 with Taranto team (beaten at the tie break), 2008/09 with Forlì team (beaten 3-0), 2009/10 against Latina team (3-1), 2010/11 with Castellana Grotte team (3-0 win), 2014/15 against Padova team (3-0) and season 2018/19 right against Siena team (3-0).
STARTING AT BLM GROUP ARENA FOR THE SIXTEENTH TIME
Playing the match worth the first day of the regular season at the friendly building, has become a pleasant constant for Trentino Volley. It had already happened to start the journey at BLM Group Arena in Trento in fifteen occasions out of twenty-two previous debuts: season 2002/03 (3-1 against Milan team), 2004/05 (beaten 1-3 against Perugia), 2005/06 (win 3-0 against Padova), 2006/07 (beaten at the tie break 3-0 against Taranto), 2008/09 (win 3-0 against Forlì), 2009/10 (3-1 against Latina), 2010/11 (win 3-0 against Castellana Grotte), 2011/12 (win 3-0 against Monza), 2012/13 beaten 1-3 against Vibo), 2013/14 (victory at the fifth set against Latina), 2014/15 (3-0 against Padova), 2016/17 (3-0 against Vibo), 2017/18 (2-3 against Milan), 2018/19 (3-0 against Siena) and 2021/22 (3-0 against Verona).
THE OPPONENTS In this occasion, the upcoming experience for Emma Villas Aubay Siena will be the second absolute experience in SuperLega, the major Italian men's volleyball league. Even the previous one, from the 2018/19 season, started just at BLM Group Arena in Trento; in that case the Tuscan society had gained the access thank to its promotion from A2 Series, while in this case it took over the newly won title from Reggio Emilia in the summer, immediately setting up a respectable team.
There is no shortage of important names in the roster at Paolo Montagnani's disposal, such as that of setter Petric (returning to Italy after only one year's absence), of former Perugia middle blocker Ricci, libero Bonami, and outside hitters Swan Ngapeth and Pereyra. Then there are also three former players on duty, such as Dutch side Van Garderen (in Trento in the 2018/19 season, in which he totaled 43 appearances), place 3 Mazzone (2015-2017 with 72 games) and opposite Pinali (43 last season), who will be honoured by Trentino Volleyball before the opening whistle.
THE BACKGROUND Sunday's match will be only the third official confrontation between the two clubs, which, before now, had challenged each other under the net exclusively in the 2018/19 SuperLega regular season; in both cases Itas Trentino won: 3-0 on Oct. 14, 2018 in Trento, 3-1 on Dec. 26 of the same year in Tuscany. The yellow-blue lineup that season already included Cavuto, Nelli, Lisinac and Van Garderen. The Dutch outside hitter, meanwhile, switched camps and will wear Siena's black-and-white jersey.
THE REFEREES The match will be directed by Andrea Pozzato (first referee from Bolzano, in Serie A since 2004) and Veronica Mioara Papadopol (from Mantova, in the top league since 2018). The last precedent with Trentino Volleyball for Pozzato dates back to March 2 (home win in three sets over Vibo Valentia), while for Papadopol the only intersection of her whistle career with the yellow-blues refers to the also 3-0 win over Padova on January 13, 2021.
LEGA AWARDS FOR MICHIELETTO AND LORENZETTI The whistle for the start of the match will be preceded by a particularly significant moment for two of the great protagonists of the previous yellow-blue season: Alessandro Michieletto and Angelo Lorenzetti will in fact receive the Lega Pallavolo Serie A Awards related to the 2021/22 championship. In fact, the coach was chosen as the best coach, thus winning the "Costa-Anderlini" Award for the fifth personal time, while the left-handed setter once again won the award as the best Under 23 of SuperLega. This is even the third "Badiali" Award for him; he won the first one two years ago but in that case referred to the A3 Series championship.
TV, RADIO AND INTERNET The competition will be a global media event, enjoying simultaneous live coverage on tv, radio and the internet. On the small screen it will be transmitted by RAI Sport +, a channel present on the digital terrestrial platform at channel number 58 with the coverage entrusted to Maurizio Colantoni and Andrea Lucchetta.
Live coverage is planned on Radio Dolomiti, media partner of Trentino Volleyball. Frequencies to listen to the regional network can be found at www.radiodolomiti.com, where it will also be possible to follow the radio report by live streaming.
Even the live video streaming on the OTT platform "Volleyball World" is confirmed; the service is for a fee. For more in-depth information on the usage thereof consult the site www.welcome.volleyballworld.tv/faq-it.
On TV, a recap of the match will also be broadcasted on Monday, October 3, at 9:40 p.m., on RTTR - tv partner of Trentino Volleyball.
On the internet, point-to-point updates will be treated by Volleyball League Serie A website (www.legavolley.it) and by the same www.trentinovolley.it and will always be active on the yellow-blues team social networks (www.trentinovolley.it/facebook, www.trentinovolley.it/instagram and www.trentinovolley.it/twitter).
BOX OFFICE The match is included in both types of season tickets offered for this season by Trentino Volleyball (full and basic).
It's still possible to purchase tickets for the single match at any time on the Internet by clicking https://trentinovolley.vivaticket.it/it/event/itas-trentino-siena/191289.
The vouchers will be also available on Sunday at the BLM Group Arena ticket offices, which will be operative starting at 4:45 p.m., the same time when the arena entrances will also open.
Trentino Volley Srl
Press Office