Trento, 02 October 2022
Itas Trentino immediately winning on 2022/23 SuperLega debut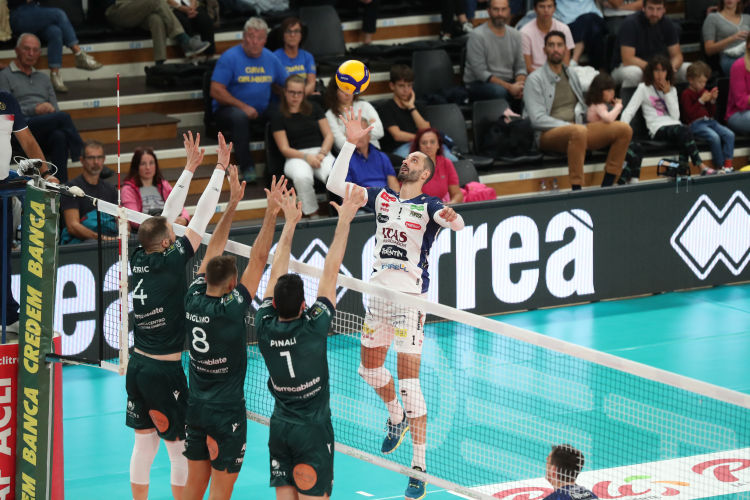 The return to the BLM Group Arena (with no more masks), after more than four months of waiting, is great for Itas Trentino. The yellow-blue team re-embraced their fans (who came in good numbers to the Fersina facility, 2,000 spectators) immediately giving them their first satisfaction of the new season. Tonight, Siena let therefore the hosts win 3-1 the match valid for the first round of SuperLega Credem Banca 2022/23, although they tried throughout the match to put the screws to Kaziyski and his teammates.
Starting every single set better than the opponents was not enough; the yellow-blue's desire to celebrate a success among their own people and inaugurate the championship in the best possible way was clearly greater. Kaziyski (26 points with 53% in attack, two blocks and as many as five aces), Michieletto (21 with identical percentages at the net, three blocks and a point shot) but also Laurenzano (superlative in both reception and defense and for this elected mvp) were able to make the difference in the decisive moments, leaving Siena to be the real protagonist only in the final third set (decided by former players Pinali and Van Garderen).
Below is the scoreboard of the postponement of the first day of the regular season of SuperLega Credem Banca 2022/23 played this evening at the BLM Group Arena.
Itas Trentino-Emma Villas Aubay Siena 3-1
(25-16, 25-21, 23-25, 25-17)
ITAS TRENTINO: Sbertoli 2, Michieletto 21, Podrascanin 7, Lavia 7, Kaziyski 26, Lisinac 5, Laurenzano (L); Nelli, Džavoronok 1, Cavuto 1, Pace (L). N.e. D'Heer, Berger, Depalma. Trainer. Angelo Lorenzetti.
EMMA VILLAS AUBAY: Van Garderen 17, Biglino 9, Pinali 15, Petric 12, Mazzone 4, Finoli, Bonomi (L); Pinelli, Pereyra, Raffaelli. N.e. Pochini. Trainer. Paolo Montagnani.
REFEREES: Pozzato from Bolzano and Papadopol from Mantua.
SET DURATION: 25', 28', 29', 23'; tot 1h and 45'.
NOTES: 2,055 spectators, for a revenue of 15,816 euros. Itas Trentino: 11 blocks, 6 aces, 15 hitting errors, 6 action errors, 46% offense, 69% (29%) reception. Emma Villas Aubay: 5 blocks, 3 aces, 21 hitting errors, 7 action errors, 40% offense, 50% (21%) reception. Mvp Laurenzano.
Trentino Volley Srl
Press Office