Trento, 03 October 2022
SuperLega, statistical notes and curiosities after the 3-1 debut win over Siena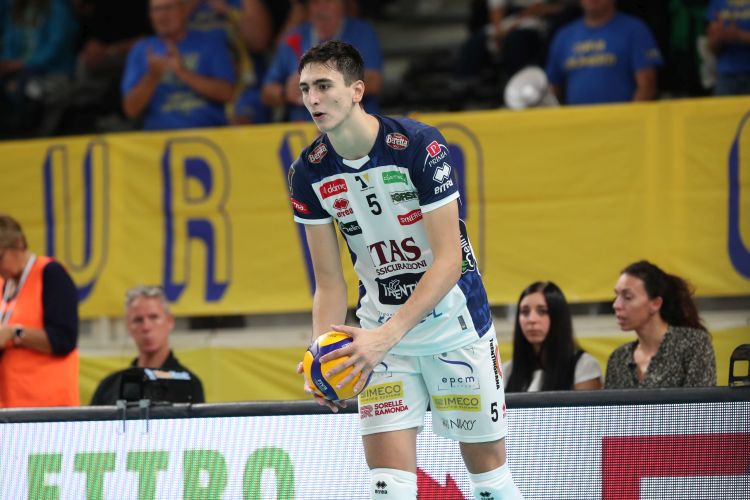 Some statistical facts that emerged after Trentino Volleyball's 2022/23 season debut match, won 3-1 on Sunday at the BLM Group Arena against Siena.
THIRD VICTORY FOR 3-1 ON DEBUT MATCH. The one obtained with Emma Villas Aubay team is the sixteenth success in the history of Trentino Volleyball in the opening match of its championship, the twelfth positive result achieved in an home game on its debut day. However, finishing the first match of the season in four sets in its favor, has never been so "usual" for the yellow blue club; it previously succeeded only two other times and always in home games: October 26th 2002 (3-1 over Milan) and September 27th 2009 (3-1 over Latina).
LIBERO MVP. On Sunday evening, the well-deserved Best Match Player award given to Gabriele Laurenzano represented a small but significant moment for Trentino Volleyball history. In its twenty-two years of activity, it had never happened that a libero made his debut by winning the title of mvp; moreover, in the 434 matches played by the club of Trener street at home, it happened only four other times that the title of mvp was awarded to a player of that role. The first precedent is related to almost twenty years ago: November 17th, 2002, a match won by Trento in an home game for 3-0 with Padova, in which Giuseppe Sorcinelli turned out to be the best; the last time it had happened instead on January 16th in the 3-0 win over Monza (Zenger best player).
NUMBER 1. With his 26 personal points scored on Sunday against Siena, Captain Kaziyski wrote an important new page in his record book referring to Trentino Volleyball. Never before had the Bulgarian setter scored so many times in the season debut match in the league. Matey's previous record was referred to September 27th 2009, with his 22 winning balls in the match against Latina, won 3-1 in that case, too.
Only Domotor Meszaros has done better than Matey in a season debut match for Trentino Volley: with 28 points on October 26th 2002 in the match Trento-Milano 3-1.
FOUR AND A HALF MONTHS LATER, SUCCESS IS BACK. The 3-1 win over Siena allowed Trentino Volleyball to return to celebrate success in an official match, celebrations were missing for four and a half months. In fact, the last yellow blue team "smile" was dated 18 April 2022, the day Itas Trentino overcame Cucine Lube Civitanova 3-0 at the BLM Group Arena in Game 2 of the Scudetto Play Off semi-finals. Only defeats had come since that success: three with Cucine Lube itself and one with Kedzierzyn-Kozle.
ALWAYS SCORING AGAINST TEAMS FROM TUSCANY. The 3-1 score achieved over Siena further reinvigorated Trentino Volleyball's favorable tradition compared to Tuscans teams: five victories in as many official matches played so far, taking into account not only the three successes achieved over Siena, but also the two obtained with Santa Croce.
MICHIELETTO BEYOND 1.000 POINTS IN THE YELLOW-BLUE TEAM. Among the main protagonists of the victory against Emma Villas Aubay, the World Champion ushered in his fourth season by playing an amazing game, characterized by 21 winning balls, 53% of which in attack, three blocks and an ace. A score that allowed him to go beyond the 1.000 personal points limit with the Club in Trener street. Now, with his 1.017 points, Alessandro is already the eighteenth bomber of the yellow-blue team's history, but there is the possibility of rising through the ranks by at least one position soon, as the one ahead of him is only 45 lengths away: André Nascimento with 1.062 points. The full detail of Michieletto's points includes 1 point in 2018/19, 20 in 2019/20, 251 in 2020/21, 724 in 2021/22 and 21 in 2022/23.
Trentino Volley Srl
Press Office