Trento, 03 December 2022
Itas Trentino gets back on track in SuperLega as well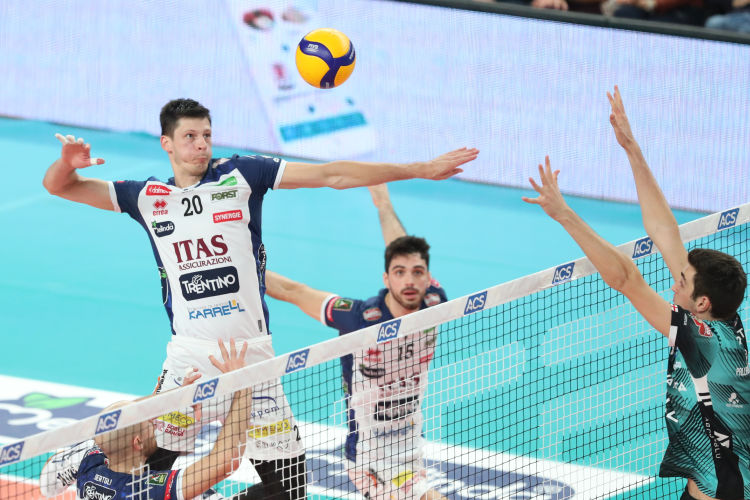 After Tuesday evening's victory against the European Champions of Kedzierzyn-Kozle in the Champions League, Itas Trentino wins again at the BLM Group Arena this time in the SuperLega. This evening, in front of its own public, the yellow-blue lineup has in fact defeated Padova in the early tenth matchday of the SuperLega, giving the confidence of a full success, three points, in the regular season after the two lost matches with Perugia and Padova. The 3-0 inflicted on the Veneto team is the best possible result to end the week that will take Lorenzetti's team to the World Club Championship. In fact, on Monday at dawn, Kaziyski and his teammates will leave for Brazil full of expectations, but also encouraged by the constancy of the performance offered today; Padova in fact never had a chance because from the very first exchanges Lorenzetti's team carried out pressure in all the fundamentals, putting the squeeze on the opponents. The 57% in team attack (with only one block endured), the nine aces made (two for Lavia, Sbertoli and Lisinac) and the seven blocks (five just in the first set) tell very well how the yellow-blue team interpreted the match at its best, closing the first half with a smile. MVP of the match is the Serbian middle player (14 points with 73% on the net and also a winning block), but also the highball trio has scored at least 10 personal points (Kaziyski 11 with 56%, Michieletto 10 with 54%, Lavia 11 with 45%), testifying how well Sbertoli passed the ball on the whole attack squad.
Below is the scoreboard of the valid match for the tenth matchday of the regular season of SuperLega Credem Banca 2022/23, played this evening at the BLM Group Arena.
Itas Trentino-Pallavolo Padova 3-0 (25-15, 25-16, 25-21)
ITAS TRENTINO: Sbertoli 3, Michieletto 10, Lisinac 14, Kaziyski 11, Lavia 11, Podrascanin 7, Laurenzano (L); D'Heer, Pace (L), Nelli. N.e. Džavoronok, Cavuto, Berger and Depalma. Coach: Angelo Lorenzetti.
PALLAVOLO PADOVA: Takahashi 1, Volpato 1, Saitta, Desmet 10, Petkovic 10, Crosato 3, Zenger (L); Asparuhov 4, Gardini 3, Zoppellari, Guzzo 1, Lelli (L) N.e. Streliotto. Coach: Jacopo Cuttini.
REFEREES: Simbari from Milan and Armandola from Voghera (Pavia).
SET LENGTH: 21', 24', 24'; tot 1h 9'.
NOTES: 1,887 spectators, takings 15,090 euro.
Itas Trentino: 7 blocks, 9 aces, 15 hitting errors, 4 action errors, 57% in attack, 52% (20%) in reception. Padua: 1 blocks, 0 aces, 13 hitting errors, 5 action errors, 45% in offense, 45% (19%) in reception. Mvp Lisinac.
Trentino Volley Srl
Press Office