Cisterna di Latina (Latina), 15 January 2023
SuperLega, Itas Trentino climbs back from 0-2 to 2-2 before giving in at the tie break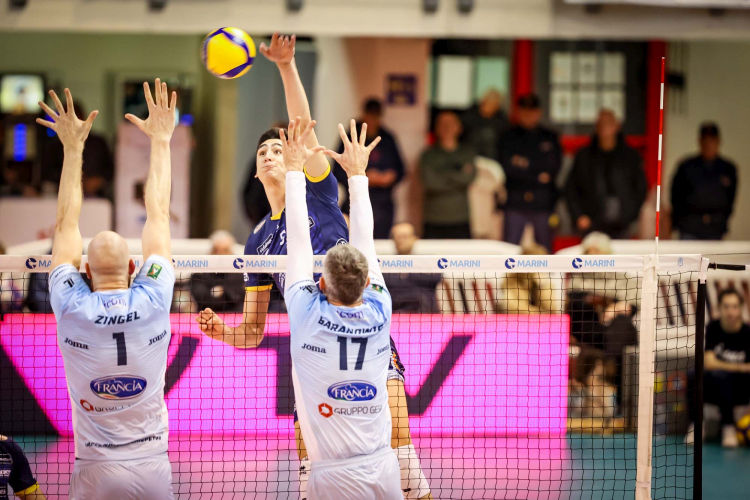 After Wednesday night's beautiful and important win in Belgium, Itas Trentino has to deal with a new setback as regards the 2022/23 SuperLega Credem Banca championship. Indeed, this evening, at 8.30 p.m., the yellow-blue team stumbled in Cisterna Latina in the postponement of the 15th round of the regular season; the hosts of Top Volley won the match at the tie break at the end of almost three hours of authentic contest, forcing Lorenzetti's team to further postpone the first SuperLega victory of 2023. However, the defeat brings a precious point for the ranking (which now sees the yellow-blue team in third place together with Civitanova), on a matchday in which all direct competitors run short dry, and the considerable reaction put in place between the third and fourth sets before wearing out, however with firmness, only 13-15 in the tie break. Down 0-2 after struggling getting into the match, Itas Trentino has in fact flaunted the pride in order to climb back up the ladder, winning both subsequent sets beyond the normal score and also annulling six match points to Top Volley players. The change of set-up proposed by Lorenzetti, who from the end of the third period repositioned Lavia in the opposite role and gave confidence to Džavoronok (well repaid, 12 points) in fact offered new life to the sextet, which returned to fight valorously to reopen the match, succeeding mainly thanks to Michieletto's spurts (27 points) and flashes in the middle of the net by Lisinac (14 with 82% at the net, 3 blocks and 2 ace) and Podrascanin (13 with 75%, two blocks and one winning serve). The fifth set got out of hand only by two points, decided by a Dirlic (37) who confirmed that he is not by chance the best scorer in the championship.
Below is the scoreboard of the match valid for the fifth matchday of the regular season of SuperLega Credem Banca 2022/23 played tonight at the Cisterna's sport hall in Latina.
Top Volley Cisterna-Itas Trentino 3-2
(25-21, 25-22, 24-26, 35-37, 15-13)
TOP VOLLEY: Bayram 16, Zingel 8, Baranowicz 3, Sedlacek 13, Rossi 3, Dirlic 37, Catania (L); Kaliberda, Gutierrrez, Mattei 2. N.e. Martinez, Zanni, Staforini. Coach: Fabio Soli.
ITAS TRENTINO: Podrascanin 13, Sbertoli 3, Michieletto 27, Lisinac 14, Kaziyski 7, Lavia 8, Laurenzano (L); Nelli 1, Džavoronok 12, D'Heer. N.e. Cavuto, Pace, Berger, Depalma. Coach: Angelo Lorenzetti.
REFEREES: Canessa from Bari e Ubaldi from Chiaravalle (Ancona).
SET DURATION: 28', 28', 35', 46', 24'; tot. 2h and 41'.
NOTES: about 1,762 spectators, proceeds not reported.
Top Volley: 5 blocks, 10 aces, 21 serve errors, 12 action errors, 49% in attack, 35% (12%) in reception. Itas Trentino: 12 blocks, 10 aces, 25 serve errors, 13 action errors, 44% in attack, 35% (19%) in reception. MVP Dirlic.
Trentino Volley Srl
Press Office