Trento, 19 March 2023
Itas Trentino-Vero Volley Monza 3-2, the match report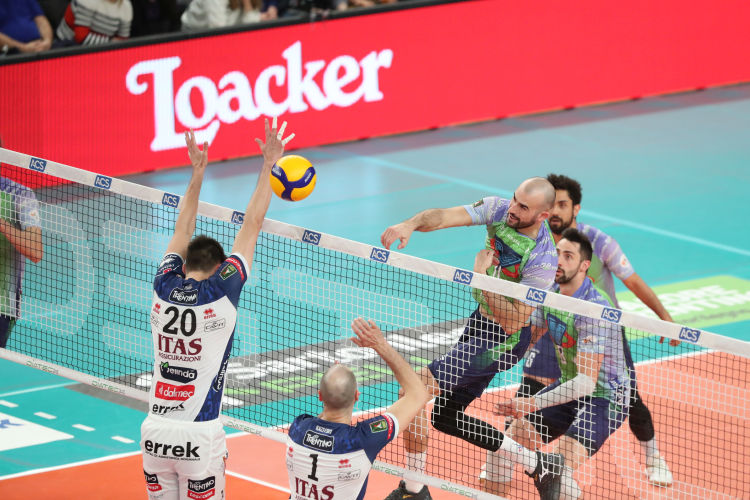 Match report. For the third match in seven days at the BLM Group Arena, Lorenzetti confirms the standard lineup, with Sbertoli at the head and Kaziyski opposite, Michieletto and Lavia hitters, Lisinac and Podrascanin middle-blockers and Laurenzano libero. Vero Volley Monza responds with Zimmermann setter, Grozer opposite, Maar and Davyskiba hitters, Beretta and Galassi middle-blockers and Federici libero. The start gives back-to-back sideout phases up to 4-3, then Davyskiba misses two diagonals in photocopy and forces Eccheli to spend the first time out at 6-3; at the restart, Lisinac's block, which then also transforms a free ball, and Lavia's winning rebuild further widen the gap (9-3, another interruption of the game by the guests). The Brianzolo coach then inserts Hernandez in place of the Belarusian hammer, who, however, immediately suffers an ace; on 12-4 (break point by Michieletto) the set is already heavily addressed and Itas Trentino can play the second part of the partial without anxiety (14-7 and 17-9) despite the opponents try to change the cards on the table (Kreling and Szwarc in for Zimmerman and Grozer), without, however, obtaining significant results. The 1-0 domestic lead comes as early as 25-16, because Vero Volley is very foul at the service and the Lisinac-Michieletto pair goes wild in attack.
In the second set, Ecchelli restarts from the reserve setter-opposite kick , only to come back on his feet as early as 7-6, after his team had managed to recover an initial three-points disadvantage (from 5-2 to 5-5-). Trento restarts with Kaziyski (9-7) and then makes a sprint with Lisinac's ace (11-8) and Michieletto's counterattack (15-11); a perfect situation for playing freewheeling and giving the fan a well-played volleyball (17-13 and 19-15). Monza does not give up until 20-18 (Davyskiba's ace on Lavia) and then with another scoring-serve (from 22-18 to 23-11) by Grozer, but then raised its head again, leaving way for Lavia's sharpness (attack and block on the German player for 25-21).
After the change of ends, Monza is back with a different attitude, bolder at service and more effective at block and with a different kick (Krelling-Grozer).
Itas Trentino struggles at first (2-5 and 4-7), attempts a comeback with Michieletto (7-9) but makes too many errors and struggles to keep the sideout phase constant (8-14). Lorenzetti calls Nelli in place of Kaziyski and already used the two timeouts available during the first half of the set; at 11-18, after Lisinac's out-attack, neither Cavuto, Džavoronok and Pace manage to fight properly. At 11-21 the likelihood of the fourth set had already materialized and it was 13-25.
The yellow-blue team's difficulties went on in the following set (4-6), but this time the hosts did not let go (7-7) and began the blow-to-blow fight, before Maar scored again (8-9 to 9-12). Itas Trentino loses touch again (12-16, Beretta's block on Kaziyski); Lorenzetti calls the last timeout and thanks to Sbertoli sharp serves, gets the answer he wanted. Lavia leads the comeback attempt (15-16), which is immediately canceled by an unladen action by Kaziyski (suffered block and out-attack, 15-19). The sideout phase seems difficult again and Monza takes advantage to score again (16-21) and get the possibility to play at the tie break (18-25).
In the fifth set, Nelli stays on the court in place of Kaziyski and immediately finds two points (attack and ace) that are worth the first 3-1; Monza replies with Galassi (also scoring with his serve for the 3-3), but then suffered another break through their own fault (6-4). Davyskiba turns the tide again (6-7, again at serve); Lisinac's block on Galassi gives the team a 9-8 advantage, but Grozer replies once again at serve (9-10). The finale brought plenty of thrills (13-13); Davyskiba's error on 14-13 (out-attack ) was the decisive blow.
Trentino Volley Srl
Press Office